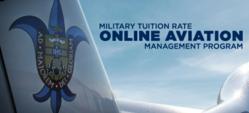 Saint Louis, MO (PRWEB) April 18, 2012
Saint Louis University recently approved a special tuition rate of $250 per credit hour for active military, veterans and benefit-eligible dependents who pursue the online aviation management program through Parks College of Engineering and Aviation and the School of Professional Studies. This low rate, when combined with the tuition assistance provided by the post-9/11 GI bill, will allow eligible military, veterans, and their dependents to obtain a bachelor's degree in Aerospace with a concentration in Aviation Management from the prestigious university at a very low cost.
Effective since August 1, 2009, the post-9/11 GI bill "provides financial support for education and housing to individuals with at least 90 days of aggregate service after September 10, 2001, or individuals discharged with a service-connected disability after 30 days," according to http://www.gibill.va.gov/benefits/post_911_gibill/index.html.
Saint Louis University's Jesuit mission, "men and women for others," is parallel to the mission and service of military and veterans. "We believe that… any individual willing to serve in the nation's military service deserves the opportunity to earn a degree at a top-tier university," Vice President of Enrollment and Retention Management Jay Goff said, "and we want to find ways to expand those opportunities."
Saint Louis University is one of the few schools in the world with an online Aviation Management degree program. This program combines the prestige of a SLU education with the flexibility that is so important to military service members and veterans, since many of them have families or are employed part-time while pursuing their degrees.
More information on this tuition rate for active military, veterans and benefit-eligible dependents is available on military.slu.edu.