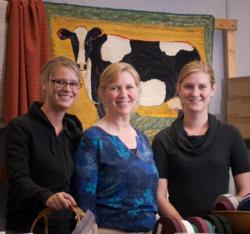 "We pride ourselves on offering beginners as well as more experienced rug hookers a pleasant, supportive environment where all can learn and enjoy their hobby."
--Stephanie Allen-Krauss, Director
Montpelier, VT (PRWEB) April 19, 2012
Owned and directed by Stephanie Allen-Krauss, a fourth generation rug hooker and custom wool dyeing specialist, Green Mountain Rug School has been her family's business for more than 30 years and now spans three generations. Every year in June, she packs up her rug supply shop, Green Mountain Hooked Rugs, in Montpelier, Vermont, and moves it to the Vermont Technical College campus in Randolph Center, Vermont, where she'll welcome sixteen instructors from the United States, Ontario and England to the school, to teach contemporary and traditional rug hooking classes to the more than 150 rug hooking enthusiasts who attend from around the country.
Stephanie, the recipient of the 2010 Vermont Governor's Heritage Award for Outstanding Traditional Artist, has been involved with the school since 1983 working with her mother, Anne Ashworth, a nationally recognized rug hooker who co-founded the school with Jean Armstrong in 1981. When her mother retired in 2000, Stephanie accepted the directorship and since then has run the school with her sister, Pam Kirk, and daughters Mariah and Lindsay. "We always look forward to our stay at Vermont Technical College—a small, scenic campus where each June we welcome rug hooking students who come from all parts of the U.S., Canada and abroad. Many students return year after year for learning, inspiration, and fellowship. We pride ourselves on offering beginners as well as more experienced rug hookers a pleasant, supportive environment where all can learn and enjoy their hobby."
In the three-day session (June 6-9, 2012), students choose from traditional and contemporary classes to include Flowers, Leaves and Scrolls taught by Diane Moore, VT; Animals and Pictorials with Jon Ciemiewicz, NH; Hooked Faces with Michele Micarelli, CT; Mixed Textures and Proddy with Heather Ritchie, England; Creative Hooked Purses with Rose Raymond, NH; Historic Techniques with Rose Ann Hunter, MA; The Elements and Principles of Design with Susan Feller, WV, and an Open Class that welcomes beginners with Sarah Guiliani, ME. Rug hookers can also sign up for some R&R–A Rest & Rug Hooking Retreat, during the 3-day session.
In the 5-day session (June 10-15, 2012), students take classes in Fine Shading taught by Nancy Blood, NY; People and Places with Rosyln Logsdon, MD; Whimsical Primitives with Beverly Conway, VT; Traditional Primitives with Jule Marie Smith, NY; All Styles and Patterns with Georgia Hall and Marnie Cormack, Ontario; Repeat and Triangulated Designs with Maddy Fraioli, OH; Combined Rug Hooking and Braiding with Kris McDermet, VT; as well as an Open Class that welcomes beginners taught by Norma McElhenny, MA.
Comfortable and convenient on-campus accommodations at Vermont Technical College are provided in dormitories, all within easy walking distance of classes and meals. Local B&B accommodations are also available. Students, both resident and commuter, have access to classrooms until 11 pm for evening hooking and to a fully stocked rug shop open throughout the day. According to two good friends who meet each year for Rug School, "We have such a good time at Green Mountain Rug School that just as soon as we are pulling out of the parking lot after class is over, we start planning and choosing a class for next year. We can't wait and we look forward to June all year long." (Robert from Vermont, and Laura from Connecticut)
Due the popularity of Green Mountain Rug School and the desire to share the beauty of Vermont during fall foliage, Stephanie also offers an annual autumn program now in its third year, Fall Foliage Fiesta of Rug Hooking, offered September 26-30, at the Vermont College of Fine Arts campus in Montpelier, Vermont.
Class details and tuition for double and single accommodations, and for commuters can be found at http://www.GreenMountainHookedRugs.com .
Green Mountain Rug School is operated by Green Mountain Hooked Rugs, a hooked rug supply shop and school in Montpelier, Vermont, owned by Stephanie Allen-Krauss. The shop offers more than 200 bolts of 100% wool fabric, dyed wool, rug hooking kits, hooking supplies and equipment, as well as hook-ins, hooking classes, and custom dyeing, as well as online sales at http://www.GreenMountainHookedRugs.com . For more information email vtpansy(at)greenmoutainhookedrugs(dot)com or call Stephanie Allen-Krauss at 802-223-1333.