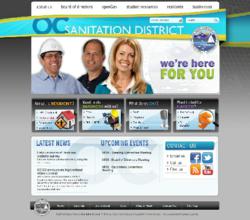 In-depth, on-site training of the powerful government cms was provided by Vision Internet to ensure a well maintained, informative website for years to come.
Orange County, CA (PRWEB) April 19, 2012
The Orange County Sanitation District recently reworked its strategy on engaging and connecting with their community. Part of this updated strategy was the launch of a new, interactive website accessed at http://www.ocsewers.com.
The new website gives a friendly face to this California special district through the use of positive employee photos and conversational content. An updated design welcomes and engages site visitors with vibrant colors, playful fonts, and a message of "We're here for you." Meanwhile, graphics mimicking the flow of nature encapsulate the sensibility of environmental sustainability actively promoted by the District.
"We've created an interactive website based on usability and quick access to information," noted Michael Gold, Public Affairs Manager. "For example, everything the public would want to know about the District, such as Board agendas or staff salaries, is contained in a single section called OpenGov. We eliminated drop-down menus to reduce clutter and created landing pages, placing all key information within a few clicks of the homepage."
The District reworked site content to carry a more intuitive, conversational tone. The homepage uses FAQs as section headers categorizing links to important interior pages (i.e. "What do we do?" and "Are you a resident?"). Interior pages use descriptive hyperlink lists and icons to clearly present information and services. Even a translation menu was worked into the site header to continue the conversation beyond English-speaking visitors.
The new website is powered by the Vision CMS™. This government content management system provides a number of functions to make it easy for both technical and non-technical staff of the District to manage website content. In-depth, on-site training was provided to the District by Vision Internet to ensure a well maintained, informative website for years to come.
A number of California special districts have recently redesigned their websites to better serve their communities including the Imperial Irrigation District and the Sweetwater Authority.
For more information about the OC Sanitation District website and the Vision CMS™, please contact Vision Internet at 888.263.8847 or info(at)visioninternet(dot)com.
About the Orange County Sanitation District:
The Orange County Sanitation District (OCSD) is a regional wastewater collection and treatment agency serving 2.5 million residents and businesses in north and central Orange County. OCSD collects, treats and recycles or safely disposes of more than 200 million gallons of wastewater per day through 2 treatment plants, 17 pumping stations and 650 miles of sewer pipelines. OCSD is governed by a board of directors comprised of 21 city council members, three directors of special districts and one county supervisor.
About Vision Internet:
Vision Internet is the leader in government website development with over 400 clients across the US and Canada. For 15 plus years Vision Internet has been creating industry-defining websites built on leading technology including the government content management system, the Vision CMS™. Widely recognized as the best government website vendor, the company has earned hundreds of prestigious industry awards for its unique websites. Reinvigorating the eGov outreach of every community they serve, Vision Internet has earned the title of the Government Website Experts.