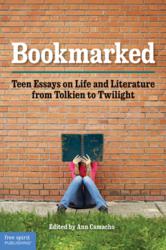 Minneapolis, MN (PRWEB) April 18, 2012
In Bookmarked: Teen Essays on Life and Literature from Tolkien to Twilight ($15.99, Free Spirit Publishing), high-school English teacher Ann Camacho presents over 50 essays from her former students, in which they reflect on how words from literature connect with and influence their lives, goals, and personal philosophies. Each essay is founded in a quote from a work of literature, selected by each writer for the meaning that it holds for him or her. In this nonfiction book for teens, the essays explore a range of life experiences including suffering the death of a parent, facing a life-threatening illness, letting go of perfectionism, making friends, realizing goals, and grappling with questions of faith and sexuality. Books cited range from The Grapes of Wrath and The Great Gatsby to Twilight and Lord of the Rings.
The essays in Bookmarked are divided into five sections: beliefs and ideals; family, friends, and love; hard times and hope; identity and self; and goals, dreams, and the future. This nonfiction book for teens presents a varied, intriguing group of essays to use as samples, models, and inspiration for personal essays—including for college applications. Following each section of essays are questions to prompt conversation, writing, and deeper consideration of the issues raised. The back matter includes tips and ideas for teachers and group leaders on how to use the book with students. Teachers of literature, writing, and language arts classes can also use these essays as a way to help teens explore literature—and their own responses to it—through writing.
Camacho has been teaching English for 22 years, and currently teaches Honors American Literature at North High School in Riverside, California. The idea for Bookmarked came to her while reading a book of essays that challenged her to look at what her most important belief, or conviction, might be. She realized it's something she teaches daily: Books are blueprints for living and roadmaps for our lives. Camacho was invigorated by the idea of learning about how literature and reading had affected the lives and beliefs of her students. Through Facebook, she sent out a message to past and present students, inviting them to write 1000-word essays using a quote from a book as the foundation or seed for their personal life philosophy. Camacho said the response she received was "astonishing." As dozens of essays began pouring in, she knew she'd sparked a fire of self-reflection and personal insight in her students.
Through this project, Camacho said, her students have discovered that books can leave a mark on our lives, an imprint that changes us forever. "C.S. Lewis once said, 'We read to know we are not alone,' and I hold his statement to be true. We read to know there is guidance for our lives, we read to become better people, and we read because words have the power to change our lives. Books can tell us who we are and who we aren't—or at least, who we don't want to be—both as individuals and as a society. They give us a chance to connect with others, and they build bridges between us and the world outside," Camacho says. "Books mark our lives—and they help us leave our own mark on the world."
About the author
Ann Camacho has been an English teacher for more than 20 years. She currently teaches American literature at North High School in Riverside, California. Her students (and the student body as a whole) are very diverse, and many are in the school's International Baccalaureate program and/or AP classes. Ann also participates in the AVID (Advancement via Individual Determination) college preparation program for students (often, but not always, from low-income homes) who have college aspirations but are falling short of their potential or who don't believe college is within reach. She lives in Riverside, California.
About Free Spirit
Headquartered in Minneapolis, Minnesota, Free Spirit is the leading publisher of learning tools that support young people's social-emotional health and their educational needs. Free Spirit's mission is to help children and teens think for themselves, succeed in life, and make a difference in the world. For more information, visit http://www.freespirit.com.
Bookmarked
ISBN 978-1-57542-396-8 / $15.99 / Softcover / 224 pp. / 6" x 9" / Teen Nonfiction / For ages 13 & up
###