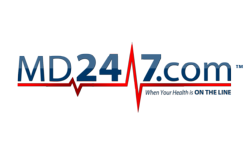 Everyone needs healthcare.
Tampa, FL (PRWEB) April 18, 2012
Seminole Florida based telemedicine provider MD247.COM released the first in a series of messages from MD247 Founder Thomas Meehan on Monday. Each message from Meehan will review a different piece of entrepreneurial history, tracing the roots of innovation through the annals of a shared past and eventually depositing the reader in a landscape promoting equal access to healthcare and the opportunity to thrive economically. Each article in the series is meant to remove all fear and/or concern that telemedicine is a scam, a flim-flam game or some type of attempt to ripoff the public.
MD 247 is a 24 hour affordable concierge telemedicine company based out of Seminole Florida. All members have unlimited telephone access to a nationwide medical support team with just a phone call. MD247.com has a virtual platoon of Registered Nurses and board certified physicians available to members for all non-emergency situations. You can learn more about MD247.com by visiting http://www.md247.com.