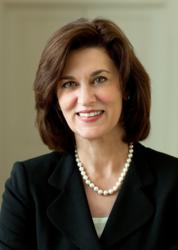 Montclair, NJ (PRWEB) April 18, 2012
Victoria Reggie Kennedy, a lawyer and president of the Board of Trustees of the Edward M. Kennedy Institute for the United States Senate in Boston, Massachusetts, will address Montclair State University's Class of 2012 at their commencement exercises on Friday, May 18. She will receive an honorary Doctor of Laws at the ceremonies, which will be held at the Izod Center in East Rutherford, New Jersey.
"We are honored that Victoria Kennedy will be this year's Commencement speaker," said Montclair State University President Susan A. Cole. "She has brought passion and enthusiasm to the many causes she supports, particularly those that impact children and women."
The wife of the late Senator Edward M. Kennedy, Victoria Kennedy is well known for her work on health, education, and labor issues. She is a founder and past president of Common Sense about Kids and Guns, a not-for-profit group working to reduce gun deaths, injuries, and violence among children in the United States.
A vigorous advocate for involvement in the political process, she helped establish the Boston-based Edward M. Kennedy Institute for the United States Senate to promote public discourse, encourage political participation, and inspire a new generation of leaders.
Kennedy practiced law for nearly two decades, focusing her private practice on the regulation of commercial banks, and savings and loan institutions. She currently serves on a number of boards, including those of the John F. Kennedy Center for the Performing Arts and the Boston Museum of Fine Arts.
In addition to Kennedy, Montclair State University's 2012 honorary degree recipients include legendary dancer Jacques d'Amboise; WNYC Radio talk show host Brian Lehrer; Gene E. Likens, a pioneer in the discovery and study of acid rain in North America; Dennis M. Bone, president of Verizon New Jersey; Patrick McCarthy, president and chief executive officer of the Annie E. Casey Foundation; and Michael E. Cryor, founder and president of The Cryor Group, a strategic communications firm.
Montclair State University
Montclair State University offers a comprehensive array of undergraduate and graduate programs to a highly diverse population of 18,500 students in an expansive university setting that focuses on student learning and success. For more information, visit montclair.edu