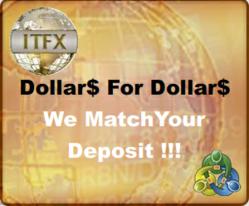 HongKong, HongKong (PRWEB) April 20, 2012
The CEO of InvesttechFX reported today that there is evidence which has become more visible and apparent that the analysts from the U.S. and its economic recovery program is gaining strength as time proceeds and is continuing to buy stocks in Asia and this proves the U.S's importance in the market for the region's exporters.
On the other side of the coin, Asian stock markets have been inching higher recently as good news about the U.S. economy helped maintain enthusiasm for riskier assets in Asia, while a weaker Yen improved the outlook for some of Japan's companies, the CEO stated today.
The Dow Jones industrial average is up 8.3 percent this year, and the Nasdaq on Friday broke through 3,000 for the first time since the dot-com days more than a decade ago. Also, Benchmark oil rose and remained above $107 per barrel while the dollar was slightly higher against the Euro and the Yen.
Falling home prices and weak trade in the first two months of 2012 kept Chinese investors' nerves in check. New home prices in China dropped in 45 cities in February, the official Xinhua News agency said, the result of government policies intended to cool property speculation.
The People's Bank of China has already signaled that there is room to lower the level of reserves and Chinese banks are required to hold these funds; A move that would free more money for lending to businesses and boost the slowing economy.
InvestTechFX, the leader in 0.5 PIP variable and fixed spreads offers the MetaTrader 4 trading tool as a means to trade all commodities such as gold, oil and silver along with the six major currencies on all mini, micro, standard, VIP and now the new Power Matrix accounts.
InvestTechFX gives traders the ability to hedge, scalp, and use any type of automated or manual trading strategy. There are no restrictions on how close stop losses or take profits can be placed to market. This provides an ideal setup for Expert Advisors and traders who scalp the markets. InvestTechFX offers low account opening minimum with multiple funding options such as Credit/Debit Cards, Moneybookers, Liberty Reserve, Alert Pay, Union Pay, Wire Transfers and more!