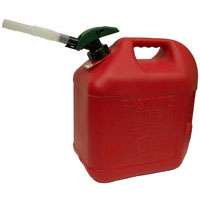 Improper storage of gasoline can cause dangerous situations
Destin, FL (PRWEB) April 18, 2012
There is probably not one garage in this country that doesn't contain at least one red gas can to supply gasoline for the lawn mower, generator, or an emergency fill-up for the car. A little extra fuel around the home can be the perfect solution when long-lines or high gas prices are keeping consumers from the pumps. Although there are many up-sides to gasoline storage, having a volatile fuel stored in a closed area can have devastating effects if not stored properly.
Improper storage of gasoline can cause dangerous situations, as well as similar health effect as if leaving the car running in a closed garage. Gasoline will expand at the rate of .069% per degree as the temperature increases (consumerwatchdog.org). In other words, if a gasoline can is filled with 5 gallons of fuel when the temperature is 32 degrees, the contents will expand over 3 ounces when the temperature hits 82 degrees. This fuel expansion, along with vapors generated when the gasoline is heated, can cause an over filled can to leak or burst if there is no expansion space. Vapors are both toxic and explosive. They can leak into the house from the garage, turning a safe home into a gas chamber. Besides the negative health effects of breathing these fumes, these vapors are explosive and may possibly ignite by an open flame such as the pilot from a stove or furnace.
Gasoline stored for a long period will degrade if stabilizer is not used. With high gas prices, and the chance of increasing gas prices in the event of a major storm, many gasoline users are utilizing stabilizer when storing gasoline for emergency purposes.
Having five or more gallons of gasoline stored in a garage, shed, basement, or similar enclosed area can be important, especially with the storm season approaching. Keeping extra fuel around the house is nothing short of tradition among many homeowners. Disaster Relief Supply hopes that whether preparing for yard work, or preparing for the worst, all fuel will be stored safely.