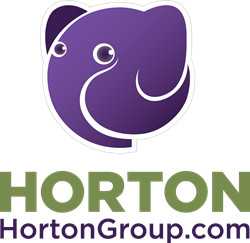 We have a brilliant team that works together. We teach each other, we help each other, and we hold each other accountable.
Nashville, TN (PRWEB) April 19, 2012
Horton Group has brought together a diverse and experienced web development team to provide businesses, organizations, and entrepreneurs engaging and innovative websites solutions. Operating within the Drupal framework, an open source content management system, Horton Group develops websites to enable their clients to manage as much or as little content as they'd like. The Drupal community has an extensive network of developers across the world constantly contributing to and accessing a wealth of information.
Horton Group was first founded as a web design and development company in 1996 and is continually growing and building the web development team. Most of the sites built by Horton Group use Drupal because of the flexibility and the user friendly content management system. When asked why they are such fans of Drupal, Dan "the duke" DiPasquale explained, "The community that contributes to Drupal makes it infinitely diverse and it is always rapidly updating." Although they develop primarily in Drupal, the Horton Developers are well versed in a variety of web development platforms including, WordPress and Joomla!
Web developer, Matt Smith, noted, "Drupal's strength is that it was designed for flexibility and scale. It's more than a content management system, and yet it's modular architecture ensures that it's never more than you need." He went on to say, "Its intelligent functionality allows us to ensure that we can create an amazing and enjoyable user experience for our clients and their customers."
The team has evolved into a group of eight like-minded developers who congregate around a cluster of desks designated as "The Dev Lot." The name of their space in the Horton offices places emphasis on the collaborative spirit of teamwork, which is an essential part to every web development project they undertake. Smith stated, "We have a brilliant team that works together. We teach each other, we help each other, and we hold each other accountable."
Designing websites that are functional and allow customers to easily update and change content has been a core part of Horton Group's mission. However, Horton Group has grown to become more than just a web development and web design company since its beginnings in 1996. In over 15 years of operation Horton Group has branched out to include greater depth of services like search engine optimization and social media management. For those looking to strengthen brands and reach a wider audience they also provide media buying, email and mobile marketing services.
For more information on Horton Group and their web development services, contact Horton Group either by phone at 615-292-8642 or by email at info(at)Hortongroup(dot)com.