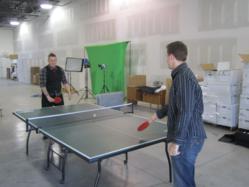 Ping-Pong is my second greatest joy at Diamond Nexus. First, of course is working with such a talented and dedicated team of professionals
(PRWEB) April 25, 2012
The Diamond Nexus marketing department has long been known to spend torturous hours perfecting their ping-pong games. They created a dedication to great marketing by using the company ball pit as a think tank, hide and go seek as a stress reliever, creating forts and employing a unique marketing approach known as "Intuitive Marketing" which was first coined by Jennifer London, Social Media Coordinator at Diamond Nexus.
"Intuitive Marketing would best be described as that place within genius marketing minds where great ideas are hiding out. You will get a gut feeling that you need to do something and then the next thing you know, bam, you just had a brilliant idea!" London exclaimed.
"No one can explain this in a book, or a webinar. The speculation of what to do and where to employ it cannot be planned out in any way. What we do in the Diamond Nexus marketing team is purely based on intuitive marketing. We also consult the tea leaves from time to time." She was then seen jumping into a giant vat of packaging pillows.
Some of the best work that the team does has been known to happen at the most unlikely of times. As Kyle Blades, Director of Marketing stated, "Last June I was jumping rope and singing showtunes in the company warehouse when I had an epiphany. We should run a sale for Mother's Day." Blades promptly emailed his assistant, who contacted the marketing staff to inform them that they needed to plan a sale.
"At first it seemed the plan was a failure," said Blades, "but then I thought, let's do the sale BEFORE Mother's Day."
"Thanks to Kyle's hard work and brilliant ideas, Diamond Nexus launched its Mother's Day sale, reducing prices to as low as $70 for items. Kyle obviously spent a great deal of time organizing this and executing it flawlessly. We are so proud of the work that he and his team have done for Diamond Nexus," commented Stephen McNelly, Director of Operations.
Other ideas coming from the beautiful minds of Jason Czarnecki, Art Director and his staff originated after Jason had spent countless hours sitting at his desk, thinking. "I like to delve so deeply into thought that I don't even hear the phone ringing. It helps that I turned the volume down too. What I firmly believe is that to produce great work, one has to feel great. So I make sure to put my feet up, sip herbal tea and imagine myself climbing a huge mountain. That is a metaphor, for my success. It may look like I'm sleeping but I'm just waiting for good ideas."
As others have found out, the pure act of play can stimulate the mind to work smarter and produce amazing results. As seen when new employee Jay Ratkowski, SEM Coordinator chooses to do. "Ping-Pong is my second greatest joy at Diamond Nexus. First, of course is working with such a talented and dedicated team of professionals." Jay's interview consisted of an "Over the Top" style arm wrestling challenge with Kyle. Jay won.
Diamond Nexus was founded in 2004 with the purpose of bringing to the public the powerful benefits of the lab-created diamond simulant revolution. They have over 250,000 customers worldwide that have awarded them an "A+" rating with the BBB, and are the ninth largest online jewelry retailer in America according to the 2011 IR500 list. For two years in a row brides from The Knot have selected them as their Best of Jeweler. Diamond Nexus currently has two retail locations: their flagship store at Woodfield Mall in suburban Chicago, Illinois, and a second store at Mayfair Mall in Milwaukee, Wisconsin. In 2009 the company was named the official jeweler and crown maker of the Miss Universe Organization as part of NBC/Universal's "Green is Universal" environmental initiative.