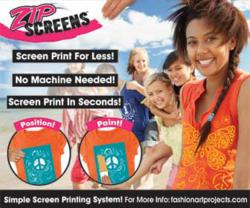 With Zip Screens™ you can create trendy professional screen printed designs on t-shirts, clothing and accessories.
Warren, NJ (PRWEB) April 25, 2012
The patented Zip Screens™ system uses colorful paints and trendy designs to create professional, screen printed looks without the use of an expensive machine. Zip Screens™ paint packs combine the paint and squeegee process of traditional screen-printing into one easy to use, all-in-one applicator. With just a few zips, you'll be on your way to custom, silk-screened fashion and home décor accessories.
Learn how to use this Zip Screens™ technology at the instructional and inspirational website FashionArtProjects.com, and purchase directly at Walmart Stores.
About FashionArtProjects.com: With teenagers and young adults in mind, FashionArtProjects.com is home to trend based fashion ideas, home décor inspirations and other do-it-yourself designs. Users will be inspired by projects that teach how to refashion clothes, sewing techniques and how to add fashionable details to their wardrobe and home. FashionArtProjects.com features iron on appliqués, transfers, studs and rhinestones, tie-dye kits, fabric paint, stencils, and Zip Screens™, a new at home screen-printing system, all sold exclusively at Walmart Stores.
Connect with us via: Facebook: http://www.facebook.com/FashionArtProjects
Twitter: https://twitter.com/#!/FashionArtPrjct/
YouTube: http://www.youtube.com/user/FashionArtProjects
Pinterest: http://pinterest.com/fashionartprjct/
About Horizon Group USA: The Horizon Group USA has been a leading crafts and accessories supplier for over 100 years. With a background in cut and sew trim, bridal and baby accessories, jewelry components and ribbon, Horizon Group USA has evolved into the leader in kids' craft activities, fashion and apparel crafts, and stationery products.