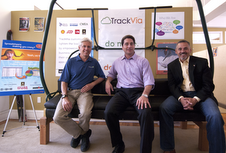 DENVER (PRWEB) April 18, 2012
In the spirit of community, ReadyTalk, a leading provider of audio and web conferencing and webinar services, is passing the tech torch to the next up-and-coming tech startup in LoDo.
ReadyTalk recently announced they are leaving their current office space at 1598 Wynkoop in Denver to move into a bigger space further down the Sixteenth Street Mall. They are passing off their symbolic ski lift chair to TrackVia, makers of cloud-based business solutions that allow users the ability to create their own custom application to meet their unique business needs. TrackVia's office is located around the corner at 1732 Wazee.
"Building a strong, collaborative and most importantly fun tech start-up community is what Colorado is all about," said Steve Foster, President and CEO of Colorado Technology Association.  "This chairlift represents what Colorado is known for; its active, outdoor culture and for having the fittest people in the nation, but we also want to be known as the innovative technology capital as represented by our members ReadyTalk and TrackVia."
ReadyTalk has been recognized nationally as a top employer and workplace – accolades that stem from the company's unique culture, which puts customers first while ensuring employees have a supportive environment and positive work-life balance. Both companies have seen a rapid rise in growth over the past few years and the passing of the chair is a symbolic gesture from ReadyTalk to TrackVia to take the reigns as Colorado's next emerging startup.
"This chairlift has been an iconic part of our lobby," said Dan King, founder and CEO of ReadyTalk. "It represents a key element of the ReadyTalk culture--maintaining active and healthy lifestyles. It's common to find our employees biking, running and working out during lunch. This healthy and happy culture is similar to TrackVia's. We hope the chairlift will be a reminder to stay true to that culture as they grow."
A pioneer in cloud-based computing, TrackVia has created the world's easiest to use online application and database builder platform. Today, TrackVia users have created more than 7,000 applications, ranging from common business applications to track sales, inventory or projects to one-of-a-kind solutions for industries such as healthcare, real estate and automotive. TrackVia was recently featured by ZDNet for its "Most Intriguing Business Applications of 2011."
TrackVia offers unlimited vacation time and flexible work hours, allowing people to manage their own time and achieve better work-life balance. The company also offers "Passion" scholarships, helping employees pursue their personal passions outside the office (e.g., skiing, exercising, travel, etc.). Under the leadership of its new CEO, Pete Khanna, the company doubled in size in 2011. The company aims to double revenue and employees again in 2012.
"Our recipe for success is pretty simple. Hire great people who aspire to do great things," said Pete Khanna, CEO of TrackVia. "This ReadyTalk chairlift has come to symbolize employee appreciation, product innovation and a fun and productive work environment. We're honored to accept the chairlift from ReadyTalk and plan to carry the torch they've help ignite, growing and promoting the exciting technology industry in Colorado."
About TrackVia
TrackVia helps business users build their own Software-as-a-Service applications to better track and manage their work. TrackVia customers have built nearly 7,000 applications, ranging from commonly used business solutions such as CRM, order management, support case management, software bug tracking and product catalogues to highly tailored vertical applications such as corporate real estate management, hotel incident and customer tracking and manufacturing supply chain management. Built atop a highly secure and reliable Cloud-based platform, TrackVia is sold on a simple and affordable month-to-month subscription plan. For more information or to sign-up for a free 14-day trial, please visit http://www.trackvia.com
About ReadyTalk
Founded in 2000 and headquartered in Denver, Colo., ReadyTalk delivers audio and web conferencing services that empower customers to successfully conduct audio and web conferences of all sizes – from ad hoc meetings to large webinars.  ReadyTalk combines ease of use with sophisticated marketing tools to increase audience engagement, event ROI and meeting productivity. Unlike other services, ReadyTalk gives customers a full suite of tools for training, collaboration, webinars and more. You'll always have access to the right features when you need them, no need to upgrade to another product. Please call toll free 800.843.9166 or visit http://www.readytalk.com for more information.
# # #