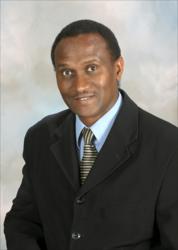 Monrovia, CA (PRWEB) April 19, 2012
International African Enterprise Board Chairman Jonathan Addison announced today that the Board has unanimously voted to appoint Stephen Mbogo as its next CEO and International Team leader. In his announcement Addison said, "It is with great pleasure that I am able to announce that Rev Stephen Mbogo has been appointed as African Enterprise's third International Team Leader (Chief executive Officer). This follows a comprehensive, and international search led by Mr John Reynolds former Chairman of AE USA and Chairman of the Selection Committee."
Mbogo is not new to AE having served previously as the Kenya Office Team Leader. Mbogo is currently studying at BIOLA University in La Mirada, California and expects to complete his PhD by December, 2012. His wife Rosemary recently completed her PhD also at BIOLA University.
AE founder, Dr. Michael Cassidy had the following comments on Mbogo's appointment. "I am deeply thankful to the Lord for leading Stephen Mbogo, a former African Enterprise Team leader in Kenya, to assume the leadership of African Enterprise as our new International Team Leader and CEO," said Cassidy. "Stephen is a deep man of God with a great heart for evangelism and a strong capacity for thinking in ways both strategic and visionary. He is possessed of a fine mind. He knows our work intimately and will definitely help African Enterprise to lift its game and enter a new era of gospel effectiveness."
As far as a timetable for Mbogo assuming his leadership position, Addison stated, "We look forward to Stephen assuming his office in June of this year, where he will serve in collaboration with Stephen Lungu until December 2012. We are confident that under God he will lead AE into the next generation of AE".
African Enterprise was founded in 1962 by Dr. Michael Cassidy, a South African evangelist. Its mission is to "Evangelize the cities of Africa, through word and deed, in partnership with the church". AE has 10 team offices throughout Africa and support raising offices in Canada, USA, Australia, UK, Ireland and Belgium.