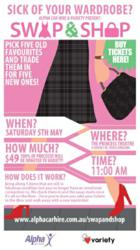 Pick five old favourites and trade them in for five new ones! Alpha Car Hire hopes to raise $100,000 for children's charity Variety
Brisbane, Queensland (PRWEB) April 25, 2012
This fantastic fundraiser for fashionistas everywhere is the perfect opportunity to swap old favourites for new favourites and updated your wardrobe whilst raising money for Queensland children in need. Swap & Shop is an event that can't be missed with an array of slick suits, fabulous dresses, snazzy pants, colourful bangles, necklaces, rings ready to be swapped.
Every decade will be represented with pieces from recent years as well as some vintage items from the 50s, 60s, 70s and even the colourful 80s. Who knows, there might also be a few designer delights to be found! Its op shopping at it's very best. No need to worry about quality - all pieces are checked at the start to ensure everyone has a fair swap.
Alpha Car Hire is a locally owned and operated company that started with one small West End office six years ago and today has expanded nationwide. Alpha Car Hire has set a massive target to raise $100,000 for the annual XXXX Gold Variety Bash held in August.
This year sees Variety - the Children's Charity celebrating 23 years of the Variety Bash in Queensland with a 10 day action packed adventure from Dalby to Mackay. All monies raised empower Queensland kids who are sick, disadvantaged or who have special needs to live, laugh and learn.
Entrants will also be given the chance to WIN BIG with a luxury 7 night holiday on offer as the grand prize plus runner-up prizes. Clink on the links below for more information!
Date – Saturday 5th May 2012
Time – 11am
Place – The Princess Theatre, 8 Annerley Road South Brisbane
Cost - $49 (all proceeds go to Variety)
More information -
http://www.alphacarhire.com.au/newsletter/swapandshop/swap-and-shop-princess-theatre.htm
http://www.alphacarhire.com.au/swapandshop/