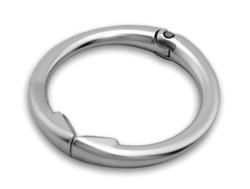 Women love Clipa. Immediately, they're impressed by its quality and by how much it can hold. Interestingly, the heavier the bag is, the better it performs.
Irvine, CA (PRWEB) April 24, 2012
According to focus group research, ease of use is the #1 requirement for women considering a hanger for their bag. Research participants complained that old fashioned folding models are difficult to find, falling to the bottom of the average handbag. Hidden in a pouch or pocket, these and other "go in the bag" styles can be time consuming and frustrating to use, participants said.
Handbag hangers have been around since the 1940s. Hard to find in today's larger bags, their design limits how easy they are to find, how much they can hold and where they can be used.
The new "Carrie" and other Clipa models are different: a sleek, polished metal loop that goes on—not in—a purse for fast, easy use. There's no need to dig around, locate, pull out and install a hook anymore. Because it goes on the bag's strap, Clipa easy to find so it gets used more often.
The purse hook research also found that quality & durability were #2 & #3 in importance. In tests, Clipa held 45 pounds with a safety factor of 2--understandable since it was specifically designed for today's large, heavy handbags. Machine testing indicates that Clipa can withstand more than 125,000 cycles (uses), performance equivalent to ten years' worth of use 3-4 times a day.
Like other Clipa models, the matte silver "Carrie" is circular so it works in more places, including rails, grocery carts and strollers. Users simply just open one end and hang a bag from a table, counter or bar. After use, they pull the strap and Clipa automatically slides back onto the bag. Clipa can't be left behind or forgotten and its unique design means Clipa can be used in more places including automobile headrests, office cubicle walls, stadiums, even fences.
18 finishes are available to complement a handbag's hardware. Understated and elegant, Clipa blends in so the bag stands out.
The product has garnered a cult-like following among fashionistas says president Mike Sweeney. "Our exclusive hinge system opens just the right amount for great surface contact but what women really love is how simple Clipa is to use."
Fast, convenient and made to last, Clipa won't tarnish and never needs polishing. Plus, he adds, "there's no 'mystery metal' from overseas since Clipa is made in America." Sweeney says the matte silver model is quickly surpassing brushed silver in popularity. "It's got a very modern feel to it. Smooth inside and out with clear footpads." This is significant he says, because in tests black rubber--used on some other products out in the market--can leave to a black streak on white tablecloths.
The new Carrie Clipa keeps purses, backpacks and business bags off the floor and away from germs, water and dirt. It hangs in just ¼" of space and is useful in restaurants, bathrooms, airplanes, movie theaters, offices, at concerts, and on cruises. Clipa also doubles as a bracelet and can be worn alone or stacked with bangles. MSRP: $19.99. It is available now at http://www.clipa.us.
Based in Irvine, California, Topcor manufactures Clipa in the U.S.A., keeping jobs at home while reducing the carbon footprint. Clipa is patented in the U.S. and abroad and sold in thousands of stores worldwide. MSRP: $19.99-39.99.