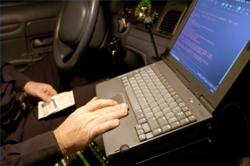 I began to dig deeper, and I found that these two suspects did almost everything identical, right down to a description of the breath test advisement where the suspects both agreed to do the PAS, preliminary alcohol-screening test
Santa Rosa, CA (PRWEB) April 19, 2012
Law enforcement reporting of DUI investigations and arrests are increasingly coming under scrutiny for taking the report of one suspect and using it to report the actions, observations and statements of another suspect days and even months later. The Law Office of Jon W. Woolsey, a Santa Rosa driving under the influence law firm and drunk driving attorney, took note of this "Xeroxed DUI Symptoms" practice after two extremely similar DUI arrest reports (SCR-508340, Superior Court of California, County of Sonoma; SCR-508213, Superior Court of California, County of Sonoma) from the same California Highway Patrol officer crossed his desk.
"I began to dig deeper, and I found that these two suspects did almost everything identical, right down to a description of the breath test advisement where the suspects both agreed to do the PAS, preliminary alcohol-screening test," DUI lawyer Jon Woolsey said. "How could that be when one of my clients never took that test, but instead opted for a blood test?"
When an officer makes an arrest, the officer then prepares a DUI incident, investigation and arrest report. This report is meant to be a complete, thorough and accurate rendition of the suspect's driving that led the officer to believe there was reasonable suspicion to detain the driver. These reports are used by the District Attorney to prosecute the suspect and used by the officer, often months later, to refresh their recollection of the investigation when they give live testimony, under oath, against the person arrested.
"In this particular case, the CHP officer finally confessed and produced a word processing template that he used to fill in the blanks for everyone he arrested for a DUI," Woolsey said.
This practice has not only been noticed in Sonoma, but also in the article "DUI Suspects May Go Free Due to Questionable Arrest Reports," published on Nov. 16, 2007, by 9 Investigations (WFTV) in Orlando, Fla., where dozens of DUI cases were being looked into due to the use of pre-written arrest reports. On Oct. 13, 2004, the San Francisco Chronicle published the article "Suspicious reports ensnare officers," which cited template police reports as an issue in Pittsburgh and noted that the Contra Costa County district attorney threw out dozens of pending cases.
"I'm not shocked to see this practice carried on by the police. What shocks me is that I cannot seem to get anybody to care about it," Woolsey said. "9 Investigates cared about it in Florida, and my guess is that the practice stopped in its tracks. Nobody but my clients and I care about it in Santa Rosa, so the practice continues to this day."
Recently, Woolsey was retained on another case (SCR-587458, Superior Court of California, County of Sonoma) in which the report contained the name of someone else unrelated to his client's case and after a lengthy investigation it was proven that this CHP officer used a report written nine months earlier. These two reports showed glaring similarities in the reasons for the detention, the performance on the field tests and the reasons cited by the officer for the arrests. Those who should have cared simply made excuses for this outrageous conduct of the officer.
"There are ways to stop this practice, as well as other police practices that should shock the conscience of even the most ardent supporter of Mothers Against Drunk Driving. It has to do with recording the accountability of our protectors to help improve their integrity and restore the integrity to those good officers who haven't abused it," Woolsey said.
For more information about any of Jon Woolsey's services, call 707-595-0409 or view the DUI lawyer on the web at dui911.com.
About Jon Woolsey
The California Law Office of Jon W. Woolsey limits its law practice to DUI defense and DMV license suspension and revocation hearings, eminently practicing throughout the court systems of Sonoma, Napa and Marin and Mendocino Counties.
The law firm provides responsive, superlative legal advice and representation during any hour of the day, seven days a week. Initial consultations are complimentary as long as an extensive interview questionnaire is completed. Only then can Woolsey adequately provide a person with competent and thorough guidance to determine how a case will fair in the courts and at the DMV.