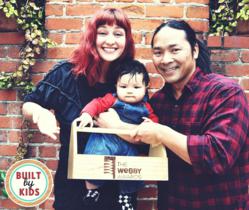 The timeless mission of families building and bonding has hit a mainstream chord.
Los Angeles, CA (PRWEB) April 18, 2012
In a world where corporate media dominates the internet landscape, Built by Kids, an independent website (with a staff of two) has been recognized by the Webby Awards in the category of Best Family/Parenting Website alongside such powerhouses as BabyCenter, Parents Magazine, Momtastic and Sesame Street. This is a modern day story of David vs. Goliath and affirms that the little guy with a strong mission, a compelling vision, formidable passion and some good ol' family values can compete on the big stage.
"Nominees like Built by Kids are setting the standard for innovation and creativity on the Internet," said David-Michel Davies, Executive Director of The Webby Awards. "It is an incredible achievement to be selected among the best from the nearly 10,000 entries we received this year."
Timothy and Laura Dahl launched Built by Kids with the intention of teaching children the ABC's of DIY and inspiring the next generation of creative Makers. Their mission, which conjures up a healthy dose of nostalgia, is to bring shop class home and to revive the backyard fun that kids had before the distractions of television, video games and other off-the-shelf entertainment.
"As new parents we want our son to grow up with an appreciation for hand-crafting and with the skills and confidence to explore his creative potential. We want his imagination to guide his playtime and his visceral abilities to lead the way," Ms. Dahl said. At Built by Kids, the process is the goal and the power of building and bonding is celebrated. "The pride you see in a child's face when she strikes her first nail or puts the finishing touches on his rocking horse is tangible. The skills last a lifetime and the precious memories will last forever."
With their respective backgrounds in fashion design and home improvement, the Dahls have created a site that offers kid-friendly projects that are educational, approachable and inventively enticing. These aren't your run-of-the-mill craft projects, rather Built by Kids features sophisticated forts, contemporary seesaws and the likes. Mr. Dahl states, "Children are more capable than they're given credit for so we encourage them to use real tools as early as possible and involve them in quality projects that are both useful and beautiful."
If you have ever wanted to root for the underdog, this is your chance. While the Webby is voted on by the Academy, Built by Kids is also eligible for the "People's Voice Award," which is voted for online by fans across the globe. From now until Friday, April 27, 2012, Built by Kids fans are encouraged to cast their votes. "We're as excited as two kids in a candy store to be nominated and we're humbled to be in the company of some of the internet's most popular websites. We know that our battle for the "People's Voice Award" is like that of David vs. Goliath, but while our competitors' reach may be larger, Built by Kids readers are as passionate and mighty as any you've seen."
About Built by Kids
Founded by Timothy & Laura Dahl, Built by Kids is created WITH, BY and FOR children. A lifestyle website that celebrates the parents, families, caregivers and educators who value the power of creative development and are nostalgic for a time when weekends were set aside for building a fort or making models. Built by Kids has been featured in The New York Times, Daily Candy and Apartment Therapy.
About The Webby Awards
Hailed as the "Internet's highest honor" by the New York Times, The Webby Awards is the leading international award honoring excellence on the Internet, including Websites. Established in 1996, the 16th Annual Webby Awards received nearly 10,000 entries from all 50 states and over 60 countries worldwide. The Webby Awards is presented by The International Academy of Digital Arts and Sciences.