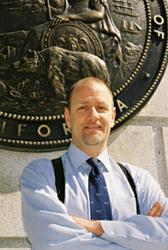 I am not looking forward to going to jail and being separated from my family
San Francisco, CA (PRWEB) April 18, 2012
As reported on KTVU, San Francisco criminal defense attorney Tim A. Pori was found in contempt of court Monday by Alameda County Superior Court Judge Carrie Panetta. Judge Panetta sentenced Pori to five days in jail and fined him $2,500 for not agreeing to start the murder trial of his client Andrew Toon Wong (Alameda County Superior Court, Oakland Docket #163657) on April 23rd.
"I am not looking forward to going to jail and being separated from my family," said Pori. "However, the 6th Amendment to the Constitution gives my client the right to effective counsel in his defense, and I would rather go to jail than prevent my client from getting a fair trial."
Pori was previously scheduled to defend another client in a murder trial in Solano County (Solano County Superior Court, Vallejo Docket #FCR274441), which will commence April 30th. Pori maintains that prevents him from preparing an adequate defense by next week for the Wong matter.
Pori said that he meant no disrespect to Alameda County judicial officials by readying himself for Solano County case first. "It is not that the Alameda courts are not as important as the ones in Solano County," Pori explained.
Pori said that the trouble arose when the prosecution in the Wong case recently disclosed potential evidence to the defense which he estimates will take his investigators until mid-June to adequately explore. He also said other defense experts are simply not ready to testify next week.
Pori noted that Wong waived his right to a speedy trial while Pori's Solano County client, Jesus Vidrio, did not. Moreover, Vidiro is being tried with two additional defendants, which makes re-scheduling that case more difficult.
"I fully expected that Mr. Wong's Alameda County trial would be calendared after my Solano County case concluded," said Pori. "I mean no disrespect to Judge Panetta or the Alameda County Court system."
Pori has acknowledged that his trial schedule has been intense in 2012 because in 2011 he cared for his wife during her chemotherapy and radiation treatments for cancer. Some of his cases were delayed as he helped his wife and two small children through months of medical and emotional ordeal. Still, he did not anticipate a scheduling showdown with Judge Panetta.
More of Pori's thoughts about being found in Contempt of Court are posted in his blog "I'd Rather Go to Jail than Prevent You from Getting a Fair Trial." For additional information about defense of any state or federal criminal charge, visit http://www.criminaldefensesanfrancisco.com/ or call Tim Pori at (415) 495-4800.
About the Law Offices of Tim A. Pori
Tim A. Pori is a San Francisco criminal defense attorney who actively defends people accused of sex crimes, drug crimes, weapons violations, federal and state felonies (including murder), and all other violations, including misdemeanors and drunk driving.
Pori is a member of the California State Bar and has been certified by the California Board of Certification as a Certified Specialist in Criminal Law. He has been practicing in the San Francisco Area for 14 years. The Law Offices of Tim A. Pori serves the San Francisco Bay Area, including the city of Vallejo.