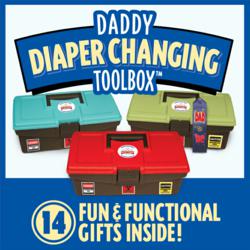 This is the King of all baby shower gifts for dad
(PRWEB) April 19, 2012
http://www.GiftsForDadToBe.com Daddy Diaper Changing Toolbox Awarded Trifecta of Prestigious Positive Parenting Awards
~Diaper changing duty will never be the same thanks to these great gifts for dad-to-be~
Tampa, FL – Funstuff4babies- Gifts for dad-to-be creator, announced today they have been awarded not one, not two but three parenting awards for the Daddy Diaper Changing Toolbox. (Patent No. 8,047,375)
"We are honored to be the recipient of the Seal of approval from Mr.Dad, PTPA, and Great Dad Recommends, said Chris Hartsfield, CEO of Funstuff4babies and GiftsForDadToBe.com. These coveted positive parenting awards focus on New Dad Gifts and product excellence in Expectant Parent products. "We have always strived for a blend of functionality and fun as a key to the success."
Changing diapers is generally an easily acceptable task for women, yet a formidable task for many men, especially first-time fathers. The Daddy Diaper Changing Toolbox has a treasure trove of tools that make the task manageable. The unexpected surprises a new bundle of joy can shell out tend to produce an environment which is conducive to humor, making the Daddy Diaper Changing Toolbox an ideal gift for expectant dads.
Fourteen fun and functional tools are included to assist in the shock and awe or "ewww" of the first diaper changing experience for the new daddy. A few patented items that adorn the dad-to-be are a Poop Poncho, Bio-hazard mask, Tongs, Gloves, and Goggles. Think of it as a diaper duty survival kit. This is the King of all baby shower gifts for dad.
The Mr. Dad Seal of Approval and GreatDad.com Recommends awards identify products that promote interaction between dads and kids. Trusted by some of the toy world's biggest brands including Lego, the Smithsonian, and the Magic School Bus Series, the combined awards recognize companies whose products and services help strengthen and empower families, and help fathers create memorable, enriching experiences with their children.
"With limited resources and support devoted to fathers, it's more important than ever to recognize and champion products and services that promote positive parenting and demonstrate a commitment to helping fathers become the parents they want to be," said Armin Brott, founder of MrDad.com and author of eight best-selling books on fatherhood.
"We want to identify products that dads can enjoy with their child, as well as recognize companies that go above and beyond in creating products and services that help fathers become better parents and improve the father-child bond," adds GreatDad's Paul Banas.
Funstuff4babies has also been awarded the PTPA.com Winner's Seal of Approval. PTPA Media has North America's largest volunteer parent testing community, with over 40,000 parents, PTPA winners are chosen based on merit and consumer experience. The PTPA Media™ Seal has quickly gained recognition as an international leader in certifying consumer products for quality, effectiveness and value. Consumers looking for high-quality products and services rely on the PTPA Winner's Seal as evidence of product excellence.
So what does 2012 have in store for the Daddy Diaper Changing Toolbox? "The focus right now is ramping up production for Father's Day. The Daddy Diaper Changing Toolbox is the perfect Father's Day gift especially for dad-to-be or new dads. "This holiday is our busiest season," says Hartsfield. "In addition, we are excited to announce a new wholesale partnership with Amazon.com/uk. This partnership is expanding the European market for father-to-be gifts and Father's Day gifts for new dads."
About the Company
Fun Stuff 4 Babies is based in Tampa, Florida. The mission is to develop products that encourage and acknowledge dad´s involvement in raising children with a little light hearted fun like their "Real Men Change Diapers" bumper sticker. The Daddy Diaper Changing Toolbox arms new dads with everything they would need for their very first diaper change as well as provides them with a chuckle as the premier baby shower gift for dad. The Daddy Diaper Changing Toolbox has been featured on The TODAY Show, MomTalkRadio.com & MomTV.com with Maria Bailey, and several websites such as whattoexpect.com, sheknows.com and myorganizedchaos.net
The Daddy Diaper Changing Toolbox can be found at http://www.GiftsForDadToBe.com, Amazon.com, Amazon.com/uk and many other fine retailers across the world.
Contact: Chris Hartsfield
Funstuff4babies (at) gmail (dot) com
1-855-4NewDad