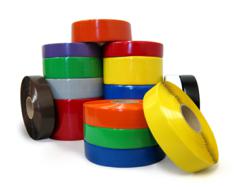 Creative Safety Supply carries the best floor marking products in the industry
Lake Oswego, OR (PRWEB) April 19, 2012
A primary consideration when ensuring production efficiency and personnel safety in a factory or warehouse is the use of industrial floor tape. In most facilities – where working areas are split into various zones to keep workers where they should be – the floor marking keep workers as well as visitors in the correct area and most importantly, out of harm's way. Companies with factories and warehouses should realize the importance of investing in reliable floor marking tape products.
Creative Safety Supply carries the best floor marking products in the industry – along with the latest 5S, 6S, visual workplace, lean manufacturing and ergonomic products. A leader in visual safety, the company presents the best selection of industrial hi-performance floor tape and floor marking products in the industry.
Creative Safety Supply carries a variety of floor tape products in their catalog, which consists of 5S Markings, Floor Labels, SafetyTac Tape, SafetyTac Hazard Tape, SafetyTac Corners, SafetyTac Dots, SafetyTac Mark T'S, SafetyTac Lean, Smart Stripe Tape, Vinyl Floor Tape, Virtual Floor Tape, Aisle Marking Tape, Marking Tape, Anti-Slip Tape, Barricade Tape, Caution Tape, Hazard Tape, Reflective Tape, Safety Tapes, Warning Tape, the Durastripe range, Floor-Mark, Floor Paint, Floor Signs, Hazard Tapes, SafetyTac Tape, Reflective Tape, Glow Tape and Tape Protection.
Creative Safety Supply is also a leading source of customizable hi-quality floor signs, easy to use industrial labeling and sign printers, and wide range of 5s, lean, and safety products.
Understanding the importance of industrial safety, Creative Safety Supply focuses on product quality and performance as its primary goals. Continuously on the quest to provide better facility safety products and application solutions, the company strives to focus on the durability of their products so that they can withstand heavy traffic and last longer to better serve their purpose.
Helping companies figure out the best and most efficient ways to get things done – and ensuring facility safety at that – Creative Safety Supply products and solutions perform in ways others simply do not. As a result, the company has forged solid, long-term relationships with customers from around the globe.
When seeking the most appropriate floor marking solutions to keep their operations organized and their facilities virtually hazard-free should visit Creative Safety Supply for globally trusted floor tape products.