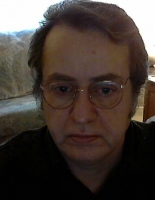 Kingston, Ontario, Canada (PRWEB) April 23, 2012
Canadian aboriginal artist Peter Hawk Hill has always tried to express his personal cultural beliefs through traditional, modern paintings, and, on rare occasions, through sculptures. Frustrated with modern media, Hill has always voiced his frustration in getting the simple beliefs of his people, as well as other tribes he has encountered, in the mainstream of everyday lives. Often struggling with a poverty stricken, subdued life, and his mental condition, Hill still manages to drive ahead with a purpose.
Hill often feels that simple values, to him, are ancient and simple and are being brushed under the rug and replaced with the modernisms of life, voicing that people are forgetting the small, enjoyable things in life, and are being replaced with not enough time for the family structure as well as the moralities of life. Hill says,
"All my life has been simple, a walk in the field, watching the ducks fly in at sunset, canoeing at sunrise on water that glistens as glass. To hear the birds early in the morning, oh what people miss."
Hill has voiced he felt that culture of any kind, is not the color of a person's skin, but a way of life. He sometimes wanders along Confederation Basin , in Kingston, Ontario, early in the mornings to commune with with the local waterfowl that reside there. As he puts it " One has only to listen to the wind, hear the trees talk."
Not wanting to give too much away, Hill wishes people to share their feelings through his work.
Materialism is not an issue with him, however he needs serious financial aid in the form of sales of his work or any philanthrist support he can obtain to survive. Hill feels that the earth is ebbing away as far as "The real Life" and hopes not only express himself, but to advance his own personal vision and keep people together in knowledge and the truisms we all share.
Mission Statement:
Ravens Aboriginal Art Company strives to modernize and revolutionize Traditional Aboriginal Art through the collective of artists within the company. Pottery, bead work, and various handwork's are but a few of the collectives efforts to both bring new and traditional art to the world.
For more information, please visit :
http://fineartamerica.com/profiles/peter-hawke-hill.html
or contact direct @613-544-7424 or 613-329-1088