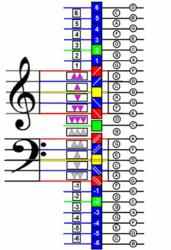 Jixis.com is a wholly free site: no fees, and no registration, just informational tools that anyone can download.
Hanover Park, IL (PRWEB) April 19, 2012
For the past six years, Jixis.com has assisted thousands of people around the globe to learn how to play a musical keyboard. Jixis.com has now added a new site page that deals exclusively with stringed instruments. Jixis.com is a wholly free site: no fees, and no registration, just informational tools that anyone can download.
Jixis is an innovative music teaching system that is primarily used to assist novice musicians. Jixis.com offers free instruction manuals, visual guides, and various graphical tools for learning how to read and play out music.
Many novice musicians consider reading and playing out written music to be a daunting prospect. A typical piano keyboard or violin has 88 note and fingering positions; a typical guitar has over 132. With so many note positions and fingering positions to correlate, and no visual guides to where they belong on a musical instrument, it is not surprising that many novice musicians become discouraged with trying to learn to read music.
Jixis makes learning to read and play out written music much easier by providing the novice musician with a visually obvious graphical correlation between the music and the musical instrument. When using Jixis, a player determines the line or space position of a note in the music, and then uses the Jixis graphical guides to see where that note position corresponds to a fingering position on the player's instrument. In this way, the player simultaneously learns both the note names in the music and their fingering positions. Eventually, the player simply overrides the system and begins to sight read and play out the written music without the graphical guides.
A downloadable Instruction Manual, Quick Start Guide, and related graphical tools for the keyboard can be found at http://www.jixis.com. Downloadable Instruction Manuals, and Quick Start Guides for fretted and unfretted stringed instruments can be found at http://www.jixis.com/FB.htm. Graphical guide sheets and note letter name charts for each listed stringed instrument fingerboard are also provided, along with special graphical tools for simplifying the learning process. There are also Do It Yourself instructions for making a graphical guide sheet and a letter name chart for any fingerboard not included on the site's stringed instrument list.
Jixis is not in any way intended to replace formal keyboard or fingerboard training, but rather to enhance it. Jixis can easily teach anyone how to locate written music notes on a keyboard or fingerboard while learning the letter names of those notes as they are played out. This knowledge prepares novice musicians to be ready and able to learn more about playing music from a professional teacher, or on their own through self-education material.
The more one initially plays using the Jixis system, the more quickly one understands what it means to play without using the Jixis system—because the entire effort of playing with Jixis is geared toward attempting to overlook the training method and play out an instrument using only the written music as a guide.