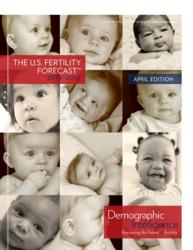 Charlottesville, VA (PRWEB) April 18, 2012
The long arm of the Great Recession continues to weigh heavily on American families, and will drive the U.S. fertility rate to a 25-year low in 2012. The Total Fertility Rate (TFR) in the U.S. is predicted to fall to 1.89 children per woman in 2012, from a recent high of 2.12 per children per woman in 2007, according to a new report from Demographic Intelligence.
This trend is unexpected because fertility rates usually rise within a year or two of the end of a recession, according to the April edition of The U.S. Fertility ForecastTM from Demographic Intelligence (DI). "The fertility fallout of the Great Recession will prove longer and deeper than many expected," said Bradford Wilcox, Ph.D., president of DI. "Young adults are gun shy about having kids today, in large part because unemployment and economic fear remain unusually high among this demographic."
Drawing on an extensive analysis of demographic, economic, and cultural trends, including Google search trends, the new report from DI provides detailed projections of U.S. birth trends in 2012, 2013, and 2014. Three findings from The U.S. Fertility ForecastTM are particularly noteworthy:

The U.S. total fertility rate (TFR) will fall more than 10 percent from 2.12 children per woman in 2007 to 1.89 in 2012, according to the forecast. The report estimates the 2011 TFR stood at 1.91 in 2011. Fertility rates have not been this low in the U.S. since the 1980s.
Fertility fell most among women under 30 in the wake of the Great Recession. The report finds that births fell, from 2007 to 2012, more than 6 percent among women aged 25-29, 14 percent among women aged 20-24, and 20 percent among teenage women. "Clearly, younger women and their partners have been hit hardest—economically speaking—by the recession and it shows in their childbearing patterns," said Wilcox.
Fertility intentions among American women remain high. Despite the recession's fallout, the average American woman still intends to have more than 2.2 children over her lifetime. "Although there has been a small dip in intended fertility for women in the twenties in the wake of the recession, intended fertility remains high among most women," said Dr. Samuel Sturgeon, the director of research at Demographic Intelligence. "When a robust economic recovery kicks in, these intentions should translate into a spike in childbearing."
The U.S. Fertility ForecastTM is typically more than 98 percent accurate in predicting U.S. birth trends. The forecast model proved 99.6 percent accurate in providing estimates for U.S. births in 2010.
"This report fills a critical gap for executives and analysts working in the juvenile products and health care industries," noted Wilcox. "After all, the U.S. Census Bureau birth projections are not calibrated to changes in the economy and culture, and academic research doesn't typically provide fine-grained projections of U.S. births on a short- or medium-term basis. This is particularly important because the economic and cultural drivers of fertility are so much in flux today. Thus, Demographic Intelligence gives companies a clear sense of the demographic road ahead."
About Demographic Intelligence
Demographic Intelligence (DI) is the premier provider of U.S. birth forecasts and fertility analytics for businesses with an interest in birth trends in the United States. DI provides reports and consulting services to companies in the following sectors: juvenile products, healthcare, media, financial services, consumer food, and household products. Dr. Bradford Wilcox is also a professor of sociology at the University of Virginia, where he studies trends in marriage and parenthood. Demographic Intelligence is advised in its work by three leading demographers: Princeton economist Alicia Adsera, University of Pennsylvania demographer Hans-Peter Kohler, and Duke University demographer Philip Morgan.
CONTACT:
Steven Morales
Chief Operating Officer
Demographic Intelligence
(888) 456-3744
Steve (at) USbirthrate (dot) com