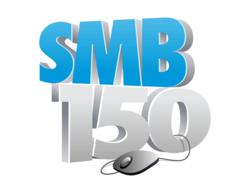 Bainbridge Island, WA (PRWEB) April 18, 2012
SMB Nation has released the final results of the 2012 SMB 150 contest, currently available at the SMB Nation website. The SMB 150, a collaboration of SMB Nation and SMB Technology Network, recognizes the top 150 influencers within the worldwide SMB technology channel. Influencers include IT consultants, analysts, VARs, MSPs, channel consultants, vendor and distributor executives, members of the media and community leaders.
"This year's SMB 150 has been an energizing experience, so it's exciting to be able to finally share the results," said Harry Brelsford, Founder and Chairman of SMB Nation. "What struck me the most about this year's list is its inclusion of channel members from all over the world; it's a real reflection of the diversity and strength of our worldwide community."
"Looking at the list of winners, it becomes clear that the quality of these unsung SMB heroes has been well represented," said Josh Freifield, President of the SMB Technology Network. "By utilizing a voting system in conjunction with an esteemed panel of judges consisting of Jeff Connally, Josh Peterson, Chip Reaves, and Larry Schulze, we've been able to honor people based on their contribution and participation in this closely knit community."
A three-part process determined this year's list of SMB 150 influencers. The competition began with an open nominating process, followed by the SMB IT community voting on the nominees at http://www.smb150.com. In addition to the community vote, a panel of industry experts judged each nominee based on a variety of relevant areas. The community vote accounted for 40% of each nominee's overall rating, with the expert panel's decision contributing the remaining 60%.
The 150 winners will also be invited to join SMB Nation and SMBTN at a gala event in Los Angeles on May 16 at the Westin Bonaventure. In addition to complimentary dinner tickets, media coverage, personalized awards plaques, and recognition in the SMB Nation magazine, each honoree will also receive a complimentary 64 GB PlayBook, courtesy of BlackBerry, the title sponsor of the event. The live event will also be sponsored by Oki Data Americas and Quest Software.
"I encourage everyone in the SMB channel community to join me in celebrating the accomplishments of the men and women who made the SMB 150 list," said Brelsford. "Each and every one of them has spent countless hours growing our community and deserves every accolade we can give them. I can't wait to toast them in Los Angeles."
The SMB 150 is a joint effort between SMB Technology Network (SMBTN) and SMB Nation. This is an annual event, in which we acknowledge those in our industry for their accomplishments and leadership.
About SMB Nation
SMB Nation is a media integration and events community, targeted at the small and medium business (SMB) channel partner/reseller/consulting/VAR community. SMB Nation spreads the knowledge of SMB technology trends through its conferences, books, print magazine, online services, and worldwide seminars, workshops and accredited Pocket MBA certificate (an academic partnership with Aspen University). As an active participant in the technology community, SMB Nation has a long history of enthusiastic advocacy and evangelism. The SMB Nation tribe exceeds 54,000 followers worldwide. For more information, visit http://www.SMBNation.com, http://www.CloudNation.co and http://www.Telephonation.com.
About SMBTN
The SMB Technology Network (SMBTN) has its roots in partner groups focused on IT solutions & services for the SMB (Small Medium Business) space. Their focus includes Windows platforms including SBS (Small Business Server). In 2005 they combined a series of independent IT Professional groups in Southern California and around the U.S. into a single umbrella group, consolidated as SMBTN. Each group holds monthly meetings to discuss the latest IT business trends. In addition, the group has partnered with Microsoft at various events, further penetrating the SMB space. The SMBTN group continues to expand into new regions, chapters and members across the U.S. For more information, visit http://www.smbtn.org.