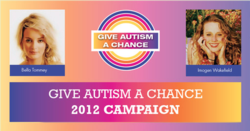 We urge Austinites to support the event at Spider House and to give those with autism a chance to show what they can do. - Mayor Lee Leffingwell
AUSTIN, Texas (PRWEB) April 18, 2012
On Sunday, April 22, Young adults with autism will serve lunch to patrons at the Spider House Café. The Give Autism a Chance event demonstrates that young adults with Autism Spectrum Disorders (ASDs) can contribute to the workforce and give back to society. Volunteers with ASDs will sell their artwork, take orders, and serve food at this hands-on community gathering.
Accordingly, Mayor Lee Leffingwell has proclaimed April 22, 2012 'Give Autism a Chance Day'. "We urge Austinites to support the event at Spider House and to give those with autism a chance to show what they can do," proclaimed the Mayor.
In addition to the public, lunch guests at Give Autism a Chance will represent four organizations focused on employment opportunities.

nonPareil Institute provides technical training and jobs to teens and young adults with ASDs.
Autvantage is an IT staffing firm that secures employment opportunities for ASD professionals.
Project SEARCH is an internship program first adopted by Seton Family of Hospitals that gives adults with autism a chance to transition into jobs, independence, and self-sufficiency.
Texas Department of Assistive and Rehabilitative Services (DARS) boasts a newly-formed, dedicated statewide team of counselors, employment providers, job coaches, and autism-friendly businesses. Their goal is to revolutionize the rehabilitation process for individuals with autism statewide.
"As an ASD mom," said Jennifer Kaut, DARS Autism Program Specialist, "I support any effort from the State level to family and friends that help individuals with autism to become more independent. DARS is transforming the vocational rehabilitation process for ASD adults, and I am proud of how far this agency has come in the past year."
Give Autism a Chance co-founder Bella Tommey and her brother with autism, Billy —both British teens — will join Austinite high-school senior Imogen Wakefield to lead the event. Bella initiated the campaign on Battlefront, a UK-based online TV project that follows a group of young campaigners making a positive effect on the world. She has since gained the recognition by the UK Prime Minister for the Austin event.
David Kogan, Food and Nutrition Director at Seton Medical Center Hays and Touchpoint Services, will be in attendance to demonstrate support from the local healthcare community. "It's rewarding to help programs like these that build confidence and develop life skills for adults with autism," said Kogan.
'Give Autism A Chance' will be held at Spider House Café located at 2908 Fruth Street, Austin, Texas 78705 on Sunday, April 22 from Noon – 3 p.m. Advanced registration is recommended and guests are responsible for purchasing their own meals.
This is an autism-friendly event; children and adults on the spectrum are welcome. "I'm privileged to help host ASD families, including authors, artists, and entrepreneurs at this networking event," said Autism Trust USA (ATUSA) Chair, Dan Burns. "Everyone is invited to enjoy this funky, fun, iconic Austin venue."
Supporters of the cause may donate and register for one of three lunch seatings at http://www.giveautismachance.eventbrite.com, dependent on capacity.
This event is hosted by the Autism Trust UK and USA chapters, as well as An Independent Me (AIM), a new Austin-area vocational camp for locals with ASDs.
Learn more:
http://www.facebook.com/AutismTrust.USA
http://www.facebook.com/GiveAutismaChance