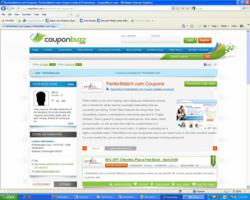 One of the really fantastic things about PerfectMatch.com is the unique software they have powering their database...
Houston, TX (PRWEB) April 18, 2012
Today a PerfectMatch.com coupon that offers new users 55% off 3 months of membership is featured on CouponBuzz.com. The coupon also includes a free book, and is located on CouponBuzz.com's newly launched webpage dedicated to special offers and coupon codes from PerfectMatch.com. Individuals interested in trying out the online dating and relationship service can save up to $100 using the 55% off coupon.
PerfectMatch.com was founded in August 2002 by a group of venture capitalists who were savvy enough to comprehend that the Duet Compatibility System the website uses to pair its members with potential matches would revolutionize the online dating industry. The Duet Compatibility System challenged the simplistic algorithm of pairing individuals based primarily on how similar their likes and dislikes were in a generic survey. While some common ground is essential, the Duet system also suggests potential matches based on characteristics which complement each other. The unique, proprietary system analyzes every site member's personality, values and ideals, and 'lovestyle' to help them find someone who is 'practically perfect in every way.'
"One of the really fantastic things about PerfectMatch.com is the unique software they have powering their database, " said Justin Bowen, a spokesperson for CouponBuzz.com. We offer PerfectMatch.com coupons on our website because they are consistently in high demand by online consumers. And to be in demand in this business, you have be able to present a product that is a cut above the competition."
The Duet Compatibility System administers a simple series of self-tests geared toward helping individuals gain an accurate picture not only of themselves, but of what they most desire in a relationship. Combining the final scores under the headings of Similarity and Complementary yields a far more accurate picture of how well suited a potential match might be. With some intense research backing up their claims, PerfectMatch.com has stepped up the game for online dating services, applying psychology and clinical studies to create a service that is truly unique. The 55% off 3 months of membership special offer can be accessed in the new PerfectMatch.com section at CouponBuzz.com, http://couponbuzz.com/perfectmatch.com-coupons.html.