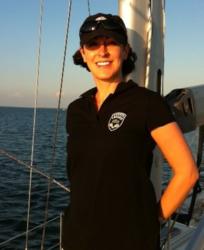 I like getting outside and being active while contributing to a great cause.
Dana Point, Calif. (PRWEB) April 18, 2012
The Ocean of Hope, a fundraising campaign for the Sarcoma Alliance, is going nationwide, thanks to Waterman's Applied Science Paddle for Humanity.
The first P4H event will be April 28 in Dana Point in Orange County, and participants have until April 26 to register.
"This is a super-fun and beginner-friendly event," says Aimee Spector of Redondo Beach, co-captain of Ocean of Hope, which has been raising money for the national nonprofit Sarcoma Alliance since its founding in Mill Valley in 1999. O2H members race on paddleboards and in outrigger canoes in California and Hawaii.
Paddle for Humanity will extend O2H's reach, she says, with events June 2 in Deerfield Beach, Fla., near Boca Raton; July 7 in Lake Tahoe, Calif.; Aug. 25 in Washington, D.C.; and Sept. 15 in Austin.
"I like getting outside and being active while contributing to a great cause," says JoEllen, an oncology nurse who plans to paddle on behalf of O2H in the Florida event. (She chose not to use her last name.) O2H seeks others who can staff tables at the different events, Spector says.
Because sarcoma is rare, patients often don't get to talk to each other in person, says Alliance Executive Director Arthur Beckert of Mill Valley. In addition to the information and guidance on its website, the nonprofit helps people connect through its Facebook page, Twitter, blog, Peer-to-Peer Network, live chat room and discussion board. The Alliance also helps reimburse expenses for people who have to travel to see a sarcoma specialist. Ocean of Hope is its biggest fundraising campaign.
"I think it's an amazing organization," says Pete Stirling, brand manager for Waterman's Applied Science in Buena Park. The company, which sponsors the Paddle for Humanity, makes sun-protection products designed for high-intensity water sports and endurance athletes.
"I was introduced to O2H by several very passionate members, and the camaraderie surrounding the organization within the paddling community is worthy of notice. Waterman's Paddle for Humanity was looking to expand our humanitarian reach during 2012 and O2H seemed a natural partner. I love how the organization focuses on community and awareness without losing track of either."
P4H started in 2009, according to its website. "Since that time, the race has grown to become the largest national paddling series and has raised thousands of dollars for its nonprofit partners." In addition to traditional paddleboarding, the series is open to stand-up paddling (SUP), outrigger canoes and kayaking. When participants register, they can designate their favorite charity, which will get 20 percent of their fees. Net proceeds from the events also will be divided among the charity partners.
The Dana Point event will have three races:
-- 5K. "Compete against friends or simply paddle for the pleasure of it. The 5K results will be applied to World Paddle Association (WPA) rankings," the website says.
-- Distance Over Time Challenge. "How far can you paddle in 60 minutes to support your favorite charity? Each paddler will be given one hour to complete as many 1-mile laps as possible."
-- Chuck Patterson Signature Series 5-lap Rally Race. "Four around a 1.6K course and one alternate lap that will involve an additional physical and/or mental challenge. Results will be applied to WPA rankings."
"Come out and cheer on the paddlers," says Spector, noting that the races can easily be viewed from the shore. She and co-captain Fred Sardisco of San Pedro will help novices. "Joe Bark will provide boards for people to use."
Bark, a legendary boardbuilder, also has donated a SUP board for a raffle to benefit the Sarcoma Alliance, Spector says. California residents can send checks of $10 or more made out to the Sarcoma Alliance to: Ocean of Hope, 1714 Havemeyer Lane, Redondo Beach CA 90278.
The Sarcoma Alliance will have a tent on the beach for paddlers, Beckert says, and anyone interested in talking to sarcoma survivors or learning about the rare cancer. As a cancer of connective tissues -- including muscle, bone, fat, nerve, cartilage and blood vessels -- sarcoma can occur anywhere in the body. It can arise in all ages, from newborn on up.