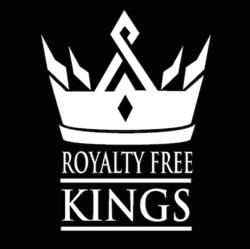 We hold the music we sell on RoyaltyFreeKings.com to the same exacting standards our big budget clients expect of us.
Los Angeles, CA (PRWEB) April 18, 2012
RoyaltyFreeKings.com, a recently launched music licensing website, is on a mission to get independent producers using better background music within their projects.
The website sells stock music, otherwise known as 'production music' or 'library music', which for many years was known as 'canned music'. Unfortunately that term has has come to mean 'cheesy' and dated sounding background music.
In recent years, major music libraries have, with the resources of their multinational conglomerate owners, invested millions of dollars updating their catalogs. Today it is easy to find vastly higher quality production music amongst these industry leading music licensing companies. In fact, many award winning composers and artists are kept busy composing production music, as it has evolved to become a viable income stream. Unfortunately, for millions of independent producers, whether it be wedding video producers, low budget film directors, local TV commercial producers or YouTube partners, such high quality stock music has remained out of reach.
Up until now, an independent producer in need of background music had to choose between being locked into expensive subscription based plans with major production music libraries, or spend hours sifting through a massive collection of 'royalty free' music just to find a decent track in amongst a sea of mediocre music. Even today, some royalty free music websites boast that their collections run into the hundreds of thousands of tracks.
Royalty free music websites are often plagued with the problem of 'cheesy' music, due to the fact that they have next to no quality control - very often no one is vetting the music that gets uploaded. Another common problem in the royalty free world is that libraries continue to build on collections that date from the early days of home studios - when music technology was primitive by today's standards. With few exceptions, little effort is made to weed out this old and dated cheesy music, resulting in a negative buying experience for the customer, who has to waste time sorting through it all just find something usable.
The solution comes in the form of brand new music licensing website RoyaltyFreeKings.com, who hand pick each and every track to ensure a premium Hollywood-grade level of quality, while offering tracks and albums at royalty free prices. Only available to independent producers (for use within projects with a budget of less than US$250,000), the music is paid for once and then can be used again and again by the customer, for life.
Launched by LA based veteran composing duo Mark Petrie and Gina Brigida in February 2012, RoyaltyFreeKings.com is truly an international project. To help round out the collection of music available at RoyaltyFreeKings.com, the founders teamed up with more than twenty award winning and successful composers from all over the world, including a pop rock producer in Finland, a Nashville based folk and country expert, a heavy metal specialist in Italy, a renowned acoustic guitar artist in Hawaii and several well known trailer music composers.
Mark Petrie, himself a composer for such trailers as: The Amazing Spider-Man, The Grey, Lockout and The Green Lantern, summarizes the quality control process: "We hold the music we sell on RoyaltyFreeKings.com to the same exacting standards our big budget clients expect of us."
In addition to the rigorous quality control that RoyaltyFreeKings.com adheres to, the composers who provide much of the music are given equal share of the sales. Petrie puts it this way: "We've worked with a number of music licensing companies as composers over the past five years, and have learned from the great ones and the not-so-great. The key for us in launching this website was to treat our composers as we'd like to be treated - fairly. We give all our composers 50% of the licenses before any sales or discounts. We also pay upfront for exclusivity to the music. It's how we've been able to work with such incredibly talented artists and composers."
The end result is a streamlined website that enables a producer to find, buy, download and start using high quality music within just a few minutes. At RoyaltyFreeKings.com, not only is every track available individually for a small one time licensing fee, there are also albums that offer incredible value as pre-packaged collections of related music. Some of the best selling albums include the royalty free acoustic music 'Laidback Acoustic' 1 and 2, and the royalty free action music 'Action Film' series.
A unique aspect to the RoyaltyFreeKings.com collection is the 'hybrid' albums. Some of these include 'Epic Patriotic' - US patriotic songs in an epic trailer music setting, and the soon to be released 'Patriotic Rock', 'Jazz Patriotic', 'Pop Rock Christmas' and 'Epic Christmas'.