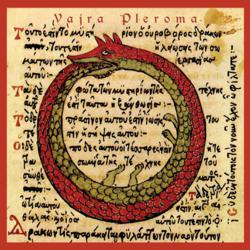 "You want something new? This is it" -Through The Sound Barrier
New York, New York (PRWEB) April 19, 2012
Vajra just released their album cover for "Pleroma" depicting a mystic alchemy formula with an ouroborous snake drawing, which mirrors their dark, mystical sound. The band also announced the album's release date will be on the Summer Sostice (June 21). The 10 track album explores paradox in a series of tenebrous and hypnotic songs, which were written during Annamaria Pinna's self-imposed exile in India.
Annamaria's powerful vocals are highlighted by Blake Fleming (ex-The Mars Volta) on drums, Doug Wright (The Dirty Pearls) on bass, and Will Dahl (ex-Harley's War) on guitar. Vajra's vocals were co-produced and mixed by Sylvia Massy (Tool, System of A Down, Prince, Johnny Cash. Tom Baker (NIN, Foo Fighters, Ministry, Prince) mastered.
See the full track listing for "Pleroma" below:
1. Inside The Flame
2. Almost One
3. India
4. Blind
5. Intuition
6. Erode The Will
7. 3.14
8. See Through You
9. Akkord Pleromy
10.The Apple
The album will be available electronically on Itunes and Bandcamp, as well as in CD format at various retailers.