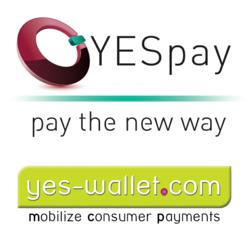 (PRWEB UK) 18 April 2012
Small-value NFC payments are now used at restaurants, for booking movies, bus and parking tickets as well as much bigger applications like healthcare, shopping, loyalty, etc. Users simply need to tap their NFC mobile based MasterCard PayPass or Visa payWave virtual cards against the contactless reader at the checkout, and they are ready to go. A growing number of companies are displaying the N-Mark, the universal symbol and touch-point for NFC, on smart posters, tags and media, promotional materials, and websites. The increasing popularity of the N-Mark is now paving its way to software developers and device makers. NFC has certainly announced its arrival. Are you ready?
Look who was there at WIMA Monaco 2012?
About YESpay and its subsidiary YES-wallet.com @ WIMA 2012 in Monaco and its showcase of NFC based solutions:

YESpay International Limited demonstrated its Mobile StoreManager NFC smartphone application capable of performing PayPass and PayWave MSD contactless transactions via the phone's NFC interface: Sale and refund PayPass/payWave contactless transactions were demonstrated on the BlackBerry 9900 and Samsung Galaxy II NFC enabled smartphones.
YES-wallet.com Limited demonstrated the world's first PayPass and payWave NFC card emulation payments on the BlackBerry 9900 where the virtual card key management and cryptography were performed in the Cloud based Pouch Wallet Server hosted in its PCI-DSS level-1 certified data centers in the UK.
Why NFC for retailers?
Speed up transaction times and hence increases efficiency. With no signature or PIN required for NFC contactless payments, retailers can process transactions faster and handle more customers in less time
Increase sales and drive volume as customers need not worry about carrying cash
Increase customer loyalty through NFC tags based marketing
Reduce cash handling, thus minimizing cashier errors
What's in it for customers?
Improve experience by spending less time queuing at the checkout or counting cash
Enjoy the convenience of making purchases without worrying about cash
It's safe: Maximum reach of 4cm means that they can't unknowingly pay for another person's purchase. Contactless payments also offer the added security, as the card never leaves the customer's hand.
In today's time when NFC is taking the world by a storm, other big players are racing to flaunt the N-mark on their solutions and devices. Some have recently taken an innovative lead:

Nokia launched its first NFC enabled Windows phone (Nokia 610) during WIMA at Monaco on April 11, 2012
The Museum of London has recently teamed up with Nokia to create NFC-enabled apps. Visitors with NFC-enabled devices can learn more about various objects on display, buy tickets for future exhibitions, get vouchers for the museum's shop and cafés, and Like or follow the museum on various social media platforms.
Fujifilm, UK plans to exploit the technology for its SmartPix photo kiosks in supermarkets, retail pharmacies, camera shops and other retail outlets. Consumers will be able to tap their NFC-enabled smartphones on photo kiosks to print their digital photos, without having to insert flash memory cards or manually scan for a Bluetooth connection.
Sony has introduced NFC tag reading and device pairing in the new smartphone.
Samsung Electronics is gearing up to jump into the mobile-payment market–with plans to offer a payments service from its NFC-enabled smartphones
Vodafone-branded NFC prepaid payment service will be seen in at least five European countries over the next 12 months.
Many large telco groups such as Telefónica UK, or O2, are expected to introduce licensed prepaid applications supporting either Visa payWave or MasterCard PayPass when they launch their NFC wallets.
About YES-wallet.com Ltd:
YES-wallet.com provides secure web/mobile wallet & facebook social commerce services. YES-wallet.com's aim is to speed up mobile and social commerce and add a great deal of convenience to consumer lives. YES-wallet.com's unique business proposition is the provision of secure hosted managed
mobile digital wallet service, branded as "Pouch", which enables multi-channel card payment and loyalty processing in web, mobile, social and physical commerce environments.
YES-wallet.com's mission is to provide innovative, secure and exciting web and mobile wallet and social commerce services to customers and partners globally, which will help them speed up their commerce and change customers shopping experience.
About YESpay International Ltd:
YESpay, a global card payments service company, provides highly secure Internet, EMV Chip & PIN, contactless and gift card payment processing services to independent and multi-chain merchants. Through EMBOSS™, the YESpay Managed Payment Service, merchants can quickly accept integrated card payments within EPOS, kiosks, hospitality and e-commerce systems with minimal capital investment and low on-going services costs. EMBOSS is an on-line IP-based payment processing service that has been generically pre-accredited by major Card Acquirers in Europe and North America (including Chase Paymentech, First Data Merchant Service (FDMS), Barclaycard Business, HSBC, HBOS, Lloyds Cardnet, Streamline, Ulster Bank, Elavon, PBS, Amex and Diners). In addition, the YESpay EMBOSS service is fully end to end certified to Payment Card Industry Data Security Standards (PCI DSS) Level 1 as mandated by Visa and MasterCard. The YESpay EasyV-Suite of card payment products is innovative and cost-effective for EPOS, Kiosk, Hospitality, Mobile and Internet environments. With the YESpay EMBOSS card payment service, merchants can perform card payments in both card-present and card-not-present environments. ¬¬
Contact details:
UK Headquarters: Checknet House, 153 East Barnet Road, Barnet, EN4 8QZ, UK
UK/Europe phone: +44 - 203 - 006 - 3790
Canada Office: 116 Spadina Avenue, Suite 201, Toronto, Ontario, M5V 2K6, Canada
Canada/USA Phone: 1 855-YES-PAY- 1
PR Contact: Nitasha Jain, Marketing Manager, ext. 402, nitasha.jain(at)yes-pay(dot)com
marketing(at)yes-wallet(dot)com
marketing(at)yes-pay(dot)com