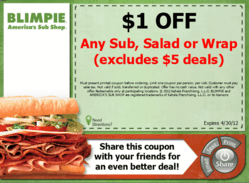 I posted my first coupon and had the best Tuesday night I've ever had! They just kept coming in! - Shawn Tenney, Owner of Tenney's Pizza outlets
Orem, UT (PRWEB) April 18, 2012
Poweredup Ads fills the foremost desire of these many Facebook deal seekers. For businesses, Poweredup Ads attracts new friends and customers and extends market reach to friends of friends, at a reasonable price point. As an example of a deal Jiffy Lube did using Poweredup Ads, they published $8 off for an oil change and $15 off, nearly double, when users decided to share the deal.
For organizations that need branding, professional designs are offered as a popular low cost option to set your promotions apart. Poweredup Ads is currently expanding into advertising agencies, an advertising co-op and larger organizations, proving this successful concept is about to explode in social media.
About rainapps llc: Launched in 2010, rainapps successfully blends technology and creativity together. Poweredup Ads, like many famous software titles, took early form during intense brainstorming sessions in the back of a team member's garage. Poweredup Ads has emerged, receiving bigger marketing connections and after countless hours of software development, passionate planning and live testing.
Other published rainapps software titles include Say Cheese Camera (22,000+ fans) and free Facebook apps, rainFrames and rainSlides. The company founder was previously involved with the software and creative development of Cricut, a popular craft design cutting machine. The development team combines over 50 years of technology experience.