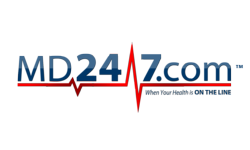 Visit MD247 on Facebook.
Tampa Florida (PRWEB) April 18, 2012
Telemedicine provider MD247 announced on Monday that parties interested in learning more about telemedicine can visit the MD247 social media learning resource, on the recognizable and credible social media powerhouse Facebook. While MD247 can typically be found on their telemedicine website, the social media learning resource for the business can be located by visiting http://www.facebook.com/md247dotcom.
MD247 frequently explains that telemedicine includes a variety of services or applications, all of which rely on some type of electronic two-way communication between the patient and the doctor. Favorites preferred by the marketplace include two-way video, email communications, smart phones and other telecommunication devices. This type of corroborating information regarding the validity of telemedicine as a credible form of affordable healthcare was previously only available on the MD247 website and blog, meaning that it was out of the line of sight for an audience purposely choosing to look for product recommendations on Facebook. Ignoring Facebook as a means to share information about a field relying on technology as its accelerant kept information about telemedicine out of the hands of more than a potential 600 Million people, all who need access to affordable healthcare options.
MD247 intends to use the Facebook business page as a method by which to share information regarding telemedicine, as well as alleviate concerns that the field is a scam or an attempt to ripoff potential customers.
Seminole Florida based MD247 (MD 247; MD/247; M.D. 247; MD247.COM) provides discounted telemedicine healthcare services nationwide to families, and discounted wholesale telemedicine healthcare to businesses. MD247 has successfully provided 25,000 people the ability to talk to a doctor twenty-four hours a day, talk to a nurse twenty-four hours a day, receive discounted prescription drugs and receive discounted in-person healthcare services. In addition to discounted healthcare services, MD247 provides support to groups supporting the employment of veterans of the United States Armed Services. MD247 services, as well as informational blogs, can be found for review online at http://www.md247.com.