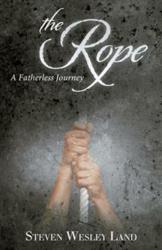 Mesa, Ariz. (PRWEB) April 19, 2012
In Steven Wesley Land's new contemporary fantasy novel "The Rope: A Fatherless Journey" (published by WestBow Press), a young boy without a father discovers a helping spirit and finds his way into adulthood after wrestling with a God-given vision.
Thomas is the main character. He is a 12-year-old, fatherless boy, and through his journey the reader finds faith and experiences God's fathering of the fatherless. The other characters – the spirit guide Sal, Thomas' crush Abby, and others – help shape Thomas into the dedicated father he turns out to be.
Land, noting that most books written about the topic of children without participating fathers are nonfiction, explains that he chose to couch his message in a novel to make it more relatable to readers. "I want the reader to experience the journey for himself," he says. "I want the impression left upon him that faith is just as real as any other part of his life, but that it is only experienced in the full journey."
"For the first time in history, more babies are born to unwed mothers," says Land. "And in most of those situations the father is not involved in the family; and in the rare cases he is, he usually does not provide the protection and leadership that a father should. This story taps into the fatherlessness that now plagues today's society."
To learn more, visit Land's website at http://www.fatherlessjourneys.com.
About the Author
Steven Wesley Land became fatherless early in life and experienced the harsh realities of a leaderless family. Constantly seeking guidance, he fell in love with the power of literature while earning his master's degree in English education from Pensacola Christian College.
After a brief teaching career, Land became a police officer in a major Arizona city, where for nearly a decade, he has responded to the countless casualties of fatherless families. He lives in Arizona and considers it a duty and an honor to be a father to his two beautiful girls.
WestBow Press is a strategic self-publishing alliance of Thomas Nelson, Inc., the world's largest Christian publisher, and Author Solutions, Inc. (ASI) — the world leader in the popular self-publishing industry segment. Through this partnership, authors benefit from the rich publishing heritage of Thomas Nelson and the speed-to-market advantages of the ASI self-publishing model. Titles published through WestBow Press are evaluated for sales potential and considered for publication under the Thomas Nelson imprint. Thomas Nelson, Inc. continues to "inspire the world" with distribution of products in more than 100 countries worldwide. For more information, or to start publishing today, visit http://www.westbowpress.com or call (866)-928-1240. Follow us @westbowpress on Twitter for the latest news.