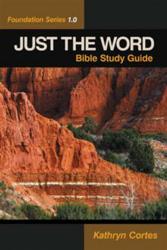 Waco, Texas (PRWEB) April 19, 2012
In science, the concept of biased interpretation refers to the possibility of two people coming to different conclusions when given the same data. It suggests that foregone conclusions and personal thoughts, feeling and beliefs allow people to use data for different purposes – the result often leading others to be skeptical. Wary of this concept guiding her understanding of the Bible, and her effort to help others understand the Bible, author Kathryn Cortes pens her new book "Just the Word: Foundation Series 1.0" (published by WestBow Press) which attempts to take an unbiased look at the Bible.
"Just the Word" is the first book in a planned series in which Cortes studies specific words in the Bible, revealing what she calls a comprehensive view of each word or topic. She offers readers simplicity through a straightforward question and answer format, avoiding interjecting with her own commentary to allow, as she says, "…the Word of God to inspire and be its own commentary."
As a professional dietitian, Cortes was inspired by the reinvigorated focus on eating fresh whole foods for optimal nutrition, and she began thinking of ways to return people to a simple, whole concept approach regarding Bible study. "I saw an unfilled need regarding Bible study material and felt impressed to develop a product to meet that need," she says.
"Everyone is seeking answers to their problems," says Cortes. "The Bible has those answers. My book helps them find those answers in the Bible."
About the Author
Kathryn Cortes, by profession, is a registered dietitian. She grew up attending a Protestant church, but as an adult she has spent years attending non-denominational churches. Cortes has devoted much of her time to studying on her own, developing her "whole concept" approach to work toward developing a comprehensive understand of the Bible. She lives with her family in Texas.
WestBow Press is a strategic self-publishing alliance of Thomas Nelson, Inc., the world's largest Christian publisher, and Author Solutions, Inc. (ASI) — the world leader in the popular self-publishing industry segment. Through this partnership, authors benefit from the rich publishing heritage of Thomas Nelson and the speed-to-market advantages of the ASI self-publishing model. Titles published through WestBow Press are evaluated for sales potential and considered for publication under the Thomas Nelson imprint. Thomas Nelson, Inc. continues to "inspire the world" with distribution of products in more than 100 countries worldwide. For more information, or to start publishing today, visit http://www.westbowpress.com or call (866)-928-1240. Follow us @westbowpress on Twitter for the latest news.