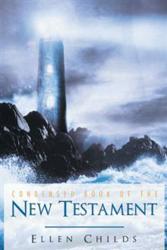 LAVONIA, Ga. (PRWEB) April 19, 2012
Many Christians find reading the Bible to be a difficult and daunting task. "Everyone needs a better understanding of the Word of God," explains author Ellen Childs'. With this mission in mind, she has penned the "Condensed Book of the New Testament" (published by CrossBooks).
The "Condensed Book of the New Testament" will help readers more fully understand the Bible's 27 books within the New Testament and the stories they tell. Childs condenses almost every major event into a manageable and easily understood format, with Jesus' miracles, Jesus' teaching by parables and other teachings, and His death and resurrection grouped together from all four gospels.
An excerpt from the "Condensed Book of the New Testament":
"The Spirit and the Bride say, 'Come!' Let everyone who hears this say, 'Come!' Let everyone who's thirsty, 'Come!' Everyone who wants the 'Water of Life' can have it as a free gift.
Jesus, who testifies that these things are true, says, 'Yes, I'm coming soon.'
Amen. Come, Lord Jesus!"
"My prayer is that this book will convict readers who aren't Christians, and they will accept Christ as their Lord and Savior," tells Childs. "I also pray that Christians will have stronger faith as they learn more about the Word of God."
About the Author
Ellen Childs has spent more than 50 years as a mentor and teacher in church. During that time, she has worked to make the Bible easier for Christians to understand. She and her husband, James D. Childs, live in Lavonia, Georgia. They have two children and four grandsons. Her entire family is actively involved in the same church with Ellen and her husband.
CrossBooks, a division of LifeWay Christian Resources of the Southern Baptist Convention, is a Christian publishing imprint committed to bringing more Christian voices into the publishing industry. Established authors, first-time authors, and authors anywhere in between can meet their goals and fulfill their vision for their books by publishing with CrossBooks. CrossBooks' innovative style of publishing blends the best of traditional and self-publishing. While our authors contribute monetarily to cover the cost of publishing, we maintain a strict moral and quality standard that every manuscript must meet for us to publish. For more information on publishing your Christian book with CrossBooks, log on to crossbooks.com or call 1-866-879-0502.