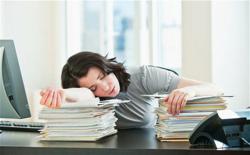 Getting inadequate sleep also causes problems similar to drinking too much alcohol; nodding off at work isn't just unproductive; it can be disastrous.
DENVER, Colorado (PRWEB) April 18, 2012
Being sleepy at work is something that many, if not most, Americans have experienced at one time or another. At a time when many folks are working more than one job and burning the candle at both ends, drowsy employees in the workplace are costing employers billions and creating hazards on the road and at work. In her newest blog titled "Sleep Your Way to a Productive Day," Stack discusses the darker side of sleep deprivation and offers solutions to finding balance between the work day and the seven to eight hours of sleep needed each night.
"Americans tend to under-sleep by choice, burning the candle at both ends due to hectic work and family schedules," Stack says. "We believe we can have more time for work and family by allowing ourselves less time for sleep.
"However, many of us do snooze—at work, driving to and from work—in a state of stupefied sleepiness."
Studies attribute sleep deprivation to an $18 billion loss in workplace productivity annually. If you add in errors, damage, and health consequences caused by drowsy workers, the costs are even higher.
Overall, the quality of work, the amount of work, and your concentration each decline by 30 percent when you're sleepy. Additionally, a lack of sleep can affect relationships,
"The bottom line is that sleeping well is not a luxury; it's a necessity," Stack says.
The Mayo clinic defines an adequate amount of sleep as whatever produces daytime alertness and a feeling of well-being. According to Stack, committing to being well-rested may require some serious focus for many who have formed habits that interfere with getting quality sleep every night. From monitoring nutrition to taking measures to protect sleep patterns when traveling, Stack says the business of getting enough sleep is just as important as fine tuning other productivity skills.
A recent poll found that 85 percent of people would sleep more, if they were convinced it would contribute to a happier life. The convincing, Stack says, might be easier if people took the consequences of sleep deprivation more seriously, including memory lapse and loss of reaction time. Too little sleep, Stack points out, also suppresses your immune function, which leads to increased infection and illnesses.
"Getting inadequate sleep also causes problems similar to drinking too much alcohol," Stack says. "Nodding off at work isn't just unproductive; it can be disastrous."
In her blog, Stack shares some pretty sobering statistics: The National Highway Traffic Safety Administration reports that sleepy drivers cause at least 200,000 crashes each year; the 1989 Exxon Valdez Alaskan oil spill was reportedly due at least in part to the severe fatigue of the tanker's sleep-deprived third mate; the Challenger accident, Chernobyl, and Three Mile Island accidents were also due to worker fatigue.
Stack believes that sleep deprivation is indicative of a society that expects to squeeze 25 hours into a 24-hour day. In a competitive job market, the answer to not only keeping a job and moving ahead, first and foremost, is productivity. When an employee is sleep deprived, productivity plummets, and it won't be long before poor work performance can cost a person their job.
To find out more about tackling sleep deprivation and regaining productivity, visit the Productivity Pro website, send an Email to Laura@TheProductivityPro.com, or call (303) 471-7401.
About Laura Stack:
Laura Stack is a time management and productivity expert who has been speaking and writing about human potential and peak performance since 1992. She has implemented employee productivity improvement programs at Wal-Mart, Cisco Systems, UBS, Aramark, and Bank of America. Stack presents keynotes and seminars internationally for leaders, entrepreneurs, salespeople, and professional services firms on improving output, lowering stress, and saving time in the workplace.
The president of The Productivity Pro®, Inc., a time management firm specializing in high-stress environments, Stack is the bestselling author of five books: "SuperCompetent" (2010); "The Exhaustion Cure" (2008), "Find More Time" (2006), "Leave the Office Earlier" (2004), and "What to Do When There's Too Much to Do" (scheduled for release in June 2012).
The 2011-2012 President of the National Speakers Association and recipient of the Certified Speaking Professional (CSP) designation, Stack has served as a spokesperson for Microsoft, 3M, Xerox, and Office Depot, and is the creator of The Productivity Pro® planner by Day-Timer.
Widely regarded as one of the leading experts in the field of employee productivity and workplace issues, Stack has been featured nationally on the CBS Early Show, CNN, and in USA Today and the New York Times.
###