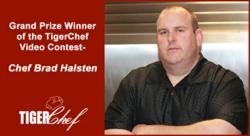 Chef Brad said, 'Winning this competition will be very helpful in providing The Burger Dive with great exposure, and I'm thankful to TigerChef for the opportunity.'
(PRWEB) April 19, 2012
The winner of the special TigerChef Video Contest has been named. Brad Halsten, owner and chef at The Burger Dive in Billings, Montana, took the grand prize based on his winning video displaying his innovative skills as a chef. TigerChef, the leading online source for restaurant equipment and supplies, sponsored the contest to showcase talented chefs and support their efforts. TigerChef asked contestants to submit an original video of a signature recipe, cooking technique, or equipment demo.
The accomplished chef wins a $1000 shopping spree to buy any of TigerChef's top quality restaurant supplies, bakery supplies, smallwares, and kitchen equipment. The generous prize is augmented by media exposure for the winner. Chef Brad will be featured on social media sites, such as Facebook, Twitter, and YouTube; will be featured in a TigerChef blog; and the winning video will be headlined for one month on the TigerChef.com contest page. Chef Brad said, "Winning this competition means a lot to me particularly since I am still pretty new to cooking professionally. I love what I do and enjoy the chance to go to work every day. I think winning this competition will be very helpful in providing The Burger Dive with some great exposure and I am thankful to TigerChef for the opportunity."
The Burger Dive gives prominence to locally grown foods and creative daily specials, and Chef Brad insists on creating all of his dishes in-house. The winning video features Chef Brad preparing a Burger Dive signature dish--a hearty California BBQ Burger. The burger recipe includes some surprising ingredients, including chipotle peppers and a coffee-rubbed triangle of beef. Chef Brad thinly slices the beef and uses it to top the burger. The Napa BBQ Sauce has a base of Cabernet Sauvignon.
In 2010, Brad and his wife Andi decided to follow their dream and opened The Burger Dive. The couple, along with Brad's father Gary, have succeeded in making The Burger Dive a huge success, all the more surprising because they have no previous restaurant experience. Voted "Best Burger in Billings" by the Billings Gazette, the restaurant features many innovative burgers, BBQ sauces, and fresh local ingredients.
The runner up in the TigerChef Video Contest is Executive Chef Shane Miller, Chef at the Houston Zoo. He won a $250 gift certificate to use for TigerChef purchases. Chef Shane's video featured a dish he prepares for special events--Southwest Blackened Tenderloin, with a black bean and roasted corn grit plank and blackened shrimp.
"We had many exceptional video submissions for our TigerChef Video Contest, but Chef Brad stood out by demonstrating his creativity and competence as a chef. We were impressed that his cooking personality was clear in his video," said J. Stefans, president of TigerChef. "TigerChef is proud to present this gift to choose merchandise from an extensive selection of kitchen supplies to Chef Brad, a talented and imaginative chef."
Restaurateurs and professional chefs value TigerChef as a full-service source for over 200,000 products, including a wide repertoire of kitchen supplies and chef supplies. TigerChef prides themselves on serving their customers from start to finish. They don't just sell products, such as chef supplies and kitchen equipment; they use their knowledge to help their customers craft their industrial kitchens into ideal workspaces. They serve as consultants regarding the products that they sell and even help with kitchen design. They work with hotel chains, restaurants, and other commercial facilities. For more information about TigerChef products contact stacey@tigerchef.com or call 877-928.4437.