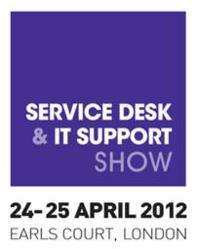 At HDI Expo ISL Online will exhibit at booth 517. One of their visitors will have a chance to win a brand new iPad with annual licence for remote access to computers included.
Swindon, UK (PRWEB UK) 18 April 2012
ISL Online, one of the world's leading providers of remote desktop and web conferencing software, will be exhibiting at two of the most important IT service and support events of Europe and the US, Service Desk and IT Support Show in London and Help Desk Institute (HDI) Conference&Expo in Florida, this year both taking place from 24 – 27 April 2012.
SDI, Service Desk & IT Support Show, UK, 24 – 25 April, Stand 324
At the premier event for the UK's IT Service Management and IT support industry, ISL Online will be available at booth 324 to demonstrate their reliable and secure remote desktop and remote access business solutions, which can considerably reduce IT operational costs and increase the flexibility and efficiency of the help desk department. ISL Online invites you to register your free e-ticket today and avoid standing in line when the show doors open.
SDI takes place at London's Earls Court over 24-25 April. ISL Online will be exhibiting at stand 324.
HDI, Help Desk Institute Conference & Expo, US, 24 – 27 April, Booth 517
In collaboration with ArtiSol, ISL Online will also be presenting its state-of-the-art helpdesk solution that reduces customer support costs by 25-50%, increases lead generation massively and redefines customer experience. The solution consists of a virtual chat agent (1st line support), a live chat web-channel (2nd line support) and remote desktop support software (3rd line support).
HDI takes place at Rosen Shingle Creek, Orlando, Florida over 24-27 April. ISL Online will be exhibiting at booth 517.
Visitors can register online for a free ticket or send an email to sales@islonline.com to receive a promo code and gain a $100 discount for a full conference pass to hear and learn from the best speakers and industry thought leaders.
Win the new iPad
At HDI Conference ISL Online will be giving away a brand new iPad to one of the attendants that will visit their booth #517.
The new iPad will also include an annual licence for ISL Light iOS remote desktop and remote access. ISL Light iOS allows professional remote support from anywhere and mobile remote desktop access to unattended computers even behind a firewall or a NAT proxy.
Both shows offer the finest opportunity to meet with the peers from the support industry and the best place to search for innovative help desk solutions.
About ISL Online
ISL Online (http://www.islonline.com) provides SaaS-based remote access, remote desktop, live chat and web conferencing solutions to connect quickly, simply and securely millions of internet-enabled devices across the globe - Windows, Mac or Linux computers and mobile devices. Designed for consumers, mobile professionals and IT organisations, ISL Online's solutions empower over 120,000 business users like Konica Minolta, IBM and IDEXX to create more than 6 million sessions yearly.