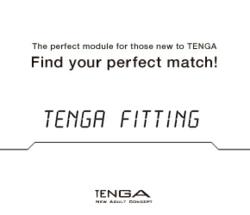 TENGA FITTING is an online program created by TENGA where users can input their data to match themselves up with a TENGA Brand Male Pleasure Item.
Tokyo, Japan (PRWEB UK) 25 April 2012
Manufacturers of Male Pleasure Items TENGA Co., Ltd. has released an analysis of data received through their "TENGA FITTING" program that recently hit 500,000 uses in Japan. The program, first released in Japan in December 2010, is a novelty online program created by TENGA in which users can input their data to match themselves up with a TENGA brand Male Pleasure Item (masturbation aid) to best suit their needs. The program is now available in English.
According to the data compiled just over a year since the program's launch*, the average size of all 500,000 users was 13.56cm in length, with a diameter of 3.53cm at the head and 3.19cm at the shaft.
Dr. Yoshitomo Kobori of Dokkyo Medical University's Koshigaya Hospital stated "TENGA's compilation of measurements for 500,000 individuals is possibly the largest of its kind. With the figures showing a neat distribution curve I believe these numbers could be reliable." Dr. Kobori goes on to state that he believes if penis size were to be in relation to body size, this size could grow further in the future.
Among other sex professionals interviewed by TENGA to commemorate their 500,000 data analysis was founder of sex workers union Sexy Mountain's Ryoko Tami who mused "It's not often heterosexual men get to compare penis sizes – especially when erect – so I believe penis sizes for men are more relative to their memories." Also interviewed was essayist Usagi Nakamura, recalling "30 years ago they told me the average size was 12cm – I guess the Japanese must be growing!"
The full English analysis including the full interview with Dr. Kobori, with future updates to feature the remaining interviews from related sex professionals is available on the TENGA Global blog. (Original Japanese microsite.)
Data overview:
Data input between Dec. 2010 ~ Feb. 2012
Input: 500,000 entries
Data input by users:
Length (Erect)
Head Girth (Erect)
Shaft Girth (Erect)
Preferred Strength of Stimulation
Preferred Location of Stimulation
Previous use of TENGA Brand Items
*N.B.
All measurements input are self-measurements with no scientific basis.
The TENGA FITTING program is a novelty tool.
No personal data (names, IP addresses) are ever stored.
All erroneous data have not been compiled.
TENGA Co., Ltd. is a manufacturer of male masturbation aids based in Tokyo, Japan providing a non-obscene solution for the self-care and control of sexual apetite. Since their launch in 2005, over 20 million TENGA brand products have been shipped worldwide, making them the most purchased male masturbation product around the globe. For further information regarding TENGA please contact Eddie Marklew at eddie(at)tenga(dot)co(dot)jp or visit http://www.tenga-global.com