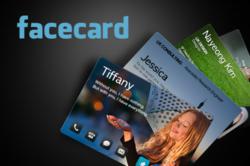 (PRWEB) April 18, 2012
A new application that lets users connect with friends in a new and creative way, my facecard is available free of charge for a limited time.
The app gives users the ability to create their own self-designed calling cards, each complete with all of their contact information, to share with friends. Making connections with my facecard is effortless and entertaining, as each user's "facecard" is both practical and creative. Sharing information with a single touch lets their contacts have access to an array of communication methods, presented beautifully on a double-sided digital "card." Not only can my facecard members share info in the usual wireless manner, they can opt to use the "bump" feature. This unique option enables the sharing of information by physically tapping phones with another member. Users can enhance their own facecards with personal photos and designs on each side, and use a variety of font and color options to further personalize their information. Facecards include the user's name and phone number, as well as work and personal email addresses, and links to their Twitter, Facebook, and LinkedIn accounts.
It's easy to make connections and keep up with them, when my facecard offers users so many ways to keep in contact at their fingertips. Not only is contact information preserved in one convenient place and presented in an appealing personalized manner, it's interactive as well. Fans of my facecard can contact one another directly through their facecards by utilizing the linked information.
While the usual $0.99 price tag is more than reasonable for such an attractive, useful, and fun application, being available free of charge during this sale will undoubtedly serve to expand the my facecard community. It's available now for download in the iTunes App Store, but download it soon—it won't always be free!
Major Features:

Integrated with the largest social networks: Facebook, Twitter, Linkedin, Google+, Tumblr and Blogger
Design creatively expressive cards with an array of colors and fonts
Text, call and email contacts directly from my facecard
Easily exchange contact information by bumping phones together
Device Requirements:
iPhone and iPod touch
Requires iOS 4.3 or later
13.9 MB
Pricing and Availability:
my facecard 1.0 is now free and now available worldwide exclusively through the App Store in the Social Networking category.
iTunes App Store: http://itunes.apple.com/us/app/my-facecard/id485195729?mt=8