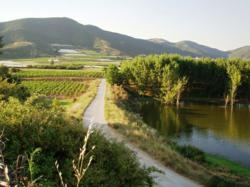 Environmental Sciences @ ScienceAlerts.com
Bangkok, Thailand (PRWEB) April 19, 2012
ScienceAlerts.com is a Web 2.0 social network to discover and share scholarly content in in the basic and applied sciences of agriculture, biology, environment, forestry, geography and health. While this new website has been operating on an on-invitation only basis for some time, it went fully online on Tuesday, February 28, 2012. 17,757 members have signed up and actively contribute content to the site which is also accessible through several ScienceAlerts.com RSS feeds. The new Environmental Sciences category currently features 34,807 stories largely derived from 98 scientific environment publishing sources.
ScienceAlerts.com's Environmental Sciences Category covers the external physical conditions affecting growth, development, and survival of organisms, and their management. It currently contains 34,807 stories partly derived from 98 scholarly environment journals. This category also provides an Environmental Sciences RSS feed which is one of the best and most popular ways of staying up to date with the latest research in this science discipline. One of the latest articles examines methods for analyzing allocation in life cycle assessment (LCA). While presenting the state of the debate on the topic and some hypothetical examples for illustration, the authors conclude that the allocation procedure has to be selected on a case-by-case basis and no single approach is suitable for every situation. The option of economic allocation should, however, be considered, e.g., whenever the prices of co-products and co-services differ widely. Another article presents a systematic review and harmonization of life cycle assessment (LCA) literature of nuclear electricity generation technologies to determine causes of variability in estimates of life cycle greenhouse gas (GHG) emissions to clarify the state of knowledge and inform decision making. The authors screened 274 references yielded 27 that reported 99 independent estimates of life cycle GHG emissions from light water reactors (LWRs). The published median, interquartile range (IQR), and range for the pool of LWR life cycle GHG emission estimates were 13, 23, and 220 grams of carbon dioxide equivalent per kilowatt-hour (g CO2-eq/kWh) and depending on conditions, median life cycle GHG emissions could be 9 to 110 g CO2-eq/kWh by 2050.
Besides the Environmental Sciences category, ScienceAlerts.com contains an Agricultural Sciences Category which covers the cultivation and production of crops, raising of livestock, and postharvest processing of natural products. ScienceAlerts.com's Biological Sciences Category covers life and living organisms, including their structure, function, growth, origin, genetics, and distribution while it's Forestry Sciences Category presents the cultivation, maintenance, and development of forests. ScienceAlerts.com's Geographical Sciences Category covers the physical characteristics of the earth including its surface features, and the distribution of life on earth, and that of the Health Sciences aggregates the effects of disease and medical treatment on the overall condition of organisms.
ScienceAlerts.com's review process is partly automated and partly manual to rigorously ensure that only relevant content is featured on the site. Since new science content is discovered in real-time, the delay between original publication and appearance at ScienceAlerts.com is usually only minutes. ScienceAlerts.com includes a search feature to retrieve specific titles or keywords from its' large database. In addition, it suggests up to ten related articles for each article selected. The site also maintains the new Twitter account @Science_Alerts.