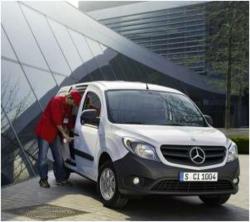 Citan: The new urban delivery van from Mercedes-Benz goes on sale in autumn
London (PRWEB UK) 19 April 2012
The new Mercedes-Benz Citan is the product of a joint venture with Renault using the French manufacturers Kangoo as a base but substantially altered for its MB buyers who will now have a model to match the Berlingo and Doblo.
The Mercedes-Benz Citan will be unveiled to the public for the first time at the IAA Commercial Vehicle Show in Hanover in September 2012 and go on UK sale shortly afterwards.
Due to its versatility and adaptability, the new Mercedes-Benz Citan fulfils a broad range of commercial applications. Based on a panel van, this urban van is available in three different lengths: Compact, Long and Extra-long.
Three high-torque, turbodiesel direct-injection engines with outputs from 75hp (55kW) to 110hp (81kW) and a nippy, supercharged petrol engine generating 115 hp (84kW) cover all standard requirements.
All the diesel engines have a particulate filter as standard. Five and six-speed transmissions with a joystick gearshift positioned within easy reach on the centre console transmit power to the front wheels.
The petrol-engined Citan comes with a BlueEFFICIENCY package as standard, which is optional for the diesel versions. Amongst other features this includes the ECO start/stop function, battery and generator management, plus optimised low rolling resistance tyres depending on the variant which again reduce fuel consumption.
More details of UK specifications and prices will be released closer to the Citan's on sale date later this year.
Citan is a welcome addition to the market for business vans. Keep up to date with all the changes as they happen by searching online for "business van news".
Source:
Business Car Manager: http://www.businesscarmanager.co.uk