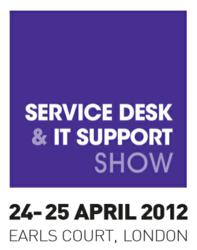 The UK's biggest showcase for the IT Service Management and IT Support Industry
(PRWEB) April 18, 2012
London, UK: The Service Desk & IT Support Show returns to London's Earls Court on 24-25 April, with over 80 leading suppliers demonstrating 250+ products and services. The UK's biggest showcase for the IT Service Management and IT Support Industry, the following is just a taste of some of the latest innovations being introduced at this year's event.
Cherwell Software Ltd (stand 800) ushers in a new era in ITSM with the newest release of its award winning Cherwell Service Management solution. This game changing solution for internal IT and external support offers a ground-breaking web portal experience that revolutionises the end-user experience.
ISL Online (stand 324) will be exhibiting its new mobile applications (http://v6.islonline.com/remote-support/mobile), which allow users to access and control remote computers from iPhone, iPad, and Android phone and tablet. Offering fast, reliable and secure service, applications are designed for business use.
New to the show this year, panintelligence (stand 103) will be showcasing its real time management information dashboard. The dashboard can help prevent SLA breaches by providing alerts in real time from multiple sources, allowing users to act promptly.
Alemba (stand 706) will unveil the next generation of ITSM software. Using innovative technology, that takes cues from the world of touch devices and visuals associated with modern gaming applications, Alemba's vFire application is a first for the IT Service Management market.
LogMeIn (stand 920) will be demonstrating not only its core support product LogMeIn Rescue, but also its newly acquired solution for live chat – BoldChat. With BoldChat LogMeIn is expanding its portfolio of web-based services aimed at customer care organisations – call centres, external help desks, and customer service teams.
Vivantio Ltd (stand 520) will showcase its flagship product Vivantio Service Desk, which was recently voted Service Management Product of the Year 2012 by readers of Network Computing magazine. Greg Rich, co-founder of Vivantio, thanked everyone who voted and said that the win "reflected the loyalty created by high levels of customer service".
LANDesk Software's Service Desk 7.5 focuses on making life easier for support staff through touch optimised access via smart phones or tablet devices to the service desk (stand 500). Support staff can maintain the same level of availability and support end users expect while away from their desks and management can see service reports or provide authorisations on the go.
ICCM Solutions (stand 610) is set to launch its Deploy & Improve methodology at this year's Service Desk & IT Support Show, to maximise the business value realised by customers when replacing legacy service management systems.
Certero (stand 710) will be launching its all new AssetStudio® Suite, which provides comprehensive functionality as and when needed. With 10 plug-in modules users still get a single holistic view to manage their assets. Unique powerful reporting transforms endless asset information into actionable business intelligence.
License Dashboard (stand 338) will be demonstrating License Manager 5, its latest licensing and audit reconciliation tool, which gives organisations a dashboard view of the software installed across their network, helping them stay compliant and ensuring they only pay for the licenses they actually need.
Biomni (stand 314) will unveil new API additions that enable integration between their Independent IT Service Catalog and other leading ITSM ServiceDesk solutions, empowering IT to consumerise any IT service – physical, virtual, or cloud.
House-on-the-Hill Software Ltd (stand 316) has recently launched the latest version of SupportDesk – SupportDesk 2012. New functionality including Touch UI, Graphical Workflow Designer, Automated Change Authorisation, Case Based Reasoning and Availability Management will be demonstrated at this year's Service Desk & IT Support Show.
SimpliSys will be launching Citrus Service Desk at the show (stand 540). Citrus is built using the latest technology with input from real end users. A combination of intelligent design and rich functionality delivers an intoxicating user experience.
ServiceNow (stand 410) will highlight the intuitive capabilities of its ITSM tools, making it easier to deliver service automation through Social IT, project portfolio management, ITGRC and managed documents, along with runbook automation. This follows the recent news that international car rental group Enterprise Holdings is migrating to ServiceNow to help run its business.
Marval will be holding live, one-to-one demonstrations on stand 842 for the newly-released build of MSM, its 100% web-based service management software that more and more is being adopted 'beyond IT' into other organisational areas, including HR.
Service Desk Institute (SDI) will be handing out carefully curated 'hugs in a box' at The SDI Knowledge Centre this year. With two hundred boxes to give away to visitors each day and five hidden golden tickets worth up to £1000 it could turn out to be a very big hug indeed.
STI Ltd (stand 426) will be distributing its 2012 IT Service Desk Survey results at the Service Desk & IT Support Show. Over 350 organisations have taken part and the results give a fascinating insight into the Service Desk world.
TOPdesk UK Ltd's new Reservations management module will be on show at stand 310. With ease users can organise available rooms and catering for meetings. They can also avoid double bookings and overlapping appointments whilst scheduling irregularly recurring sessions, with this advanced technology. Explore the possiblities of a cost saving and streamlined shared service centre.
The Open University in partnership with Global Knowledge (stand 940) will be launching its Postgraduate Certificate in Advanced Professional Practice. With full tutor support, the Certificate covers all aspects of IT Service Management and takes into consideration prior ITIL® expert learning.
Visit BMC Software UK Ltd on stand 810 to discover how the recent acquisition of Numara Software creates the industry's most comprehensive set of SaaS and on-premise IT management solutions for the Global 100 to the smallest businesses.
Bomgar 12.1, the newest version of Bomgar Corporation's remote support solution, expands technicians' ability to provide support to and from mobile devices, offers advanced smart card-based security controls, and enables remote control of Intel vPro powered devices below the operating system (stand 432).
Following the success at last year's Service Desk & IT Support Show and the considerable interest shown in versaSRS, VersaDev opened a UK office in January 2012. The company has also launched a new product version called versaSRS v 5 (stand 738).
This year's Service Desk & IT Support Show will see the re-launch of the ITSM, ITIL® & ISO/IEC 20000 Implementation Toolkit from IT Governance Ltd (stand 936). Now completely up-to-date with ITIL 2011, it has been awarded official ITIL® licensed product status, approved by APMG, the official ITIL Accreditor.
Nimsoft (stand 326) will exhibit its simplified ITIL®-based service management and end to end real-time monitoring of modern IT environments in one single ITMaaS solution. This will include newly-added energy management and web experience monitoring capabilities.
OMNINET GmbH's OMNITRACKER is able to map and automate all business processes continuously on one integrated software platform. Users can use one of the standard modules or create new workflows. OMNINET customers appreciate easy adaptation and customising by simple configuration, flexible expandability, as well as professional support (stand 438).
ManageEngine will be exhibiting its ITIL-ready service management software ManageEngine ServiceDesk Plus (stand 938). It provides incident, problem and change management with CMDB, Auto asset discovery and lifecycle management, Knowledge base and self-service portal. The latest enhancement includes iPhone application, which eases the request management process.
Global Technology Solutions Ltd (stand 934) is continuing to take 'the headache out of recruitment' by opening new, additional offices at Basepoint Business Centre in Andover. The new location is easily accessible to London, the M4 corridor, and the South.
Celonis (stand 739) will be demonstrating its Celonis Orchestra software, which uses Process Business Intelligence, a new, cutting-edge technology that enables users to extract, visualise and understand actual service workflows in real-time. Celonis Orchestra users achieve an excellent service quality whilst optimising their costs (up to 30% savings).
ITIL Training Zone Ltd (stand 718) will be introducing its range of ITIL Online Training courses, programs and customised ITIL Training portals, which are currently being used by more than 6,000 organisations worldwide.
LiveTime Software (stand 720) will be launching Service Manager version 7. Certified for 11 ITILv3 processes, it includes new features such as relationship impact mapping; enhanced workflow editor; multisource LDAP; report scheduling; and knowledge import. It will use the existing HTML-5-based interface and open standards architecture that ensures quick deployment and unlimited scalability.
Ovum (stand 650) will demonstrate its Knowledge Center information service, which helps enterprises with the formulation of their IT strategy, product and service selection, and IT portfolio management, and also helps software vendors understand the demands of enterprises.
RealVNC (stand 730) will showcase its VNC Viewer Plus, a solution aimed at IT professionals wanting to remotely solve complex IT issues such as OS failures and boot problems. It enables users to connect directly to the VNC Server from supported computers with Intel® Core™ vPro™ technology, with no additional software required for full graphical KVM out-of band access.
N-able Technologies (stand 336) will be exhibiting its new IT Automation tools in the latest release of N-central, a remote monitoring and management (RMM) automation platform. Available from within the N-central dashboard, the Technical Runbook is used by technicians to define best practice operating procedures and configuration standards for delivering remote IT services.
NetSupport Software Ltd (stand 824) will be showcasing updates to its range of products, including NetSupport ServiceDesk, a fully web-based incident, change and problem management solution built on ITIL guidelines; a new mobile console app for the NetSupport DNA IT asset management suite; NetSupport Notify; and the latest version of NetSupport Manager.
Sysmosis, reactive software for proactive support, will have its European launch at this year's Service Desk & IT Support Show. The product which enables users to manage, configure, fix and control remote Windows devices has been developed by VirtuaCon (stand 652) in partnership with SPAR.
FGI Ltd (stand 634) will introduce its new 4-day Agile training programme, which covers APMG International Agile Foundation and Practitioner qualifications. Agile is flexible, and can be used either on its own or in conjunction with more traditional approaches such as ITIL, PRINCE2 and MSP.
Unipress will be introducing updates to Web Help Desk, its service desk software solution (stand 700). Feature additions include Dashboards, which track performance in real-time; dynamic Action Rules allowing virtually unlimited routing and ticket update automation capabilities; and Look & Feel, which enables custom style sheet application to the customer facing user interface.
TechExcel (stand 216) will be unveiling ServiceWise 9.0 and CustomerWise 9.0 at the show. New features include web-based IT asset management, enhanced CMDB support, open source options, and a new AssetWise web client, which features asset link discovery integrations with both commercial and open-source asset discovery tools.
RMS Services Ltd (stand 420) will be showcasing RMS Vision – a self-service 'google like' search tool for dashboarding, KPIs at a glance and data visualisation. The next generation of Business Intelligence software from RMS, this tool allows organisations to fully understand, in real time, exactly what is happening in IT with any ITSM system.
Training provider EXIN (stand 334) will be using the event to demonstrate its approach to IT service management. Based on the ISO/IEC 20000 standard, this cost effective and practical approach captures the essence of ITIL and role-based elements such as assignments and real life examples as part of the qualification.
To celebrate the launch of UMRA 2 – the latest version of Tools4ever's flagship product - User Management Resource Administrator – the company are hosting a prize draw for a Blackberry PlayBook on stand 320 at the show. UMRA 2 is designed to help streamline the user management account process as organisations grow in size.
Once again for 2012, Hornbill Service Management Ltd (stand 300) will be sponsoring the show's multiple Twitter screens. They, and the show's organiser Diversified Business Communications UK, are encouraging all visitors, exhibitors, speakers and supporters to get involved in the conversation via the official hashtag #SDITS12.
Standing alongside the show's central exhibition is a comprehensive two-day free education programme, which combines eight Keynotes, 40 seminars, essential Breakfast Briefings, and in-depth roundtable discussions, which provide a broad spectrum of perspectives across a host of hot industry topics.
For more information and to register for free show entry, please visit http://www1.registerbynet.com/reg.asp?showcode=sdit12&source=SD1033. Service Desk & IT Support Show attendees will also benefit from free access to Infosecurity Europe 2012, Europe's No.1 information security event, co-located at Earls Court.
Members of relevant trade and consumer media can reserve press passes to Service Desk & IT Support Show by contacting Emma-Louise Jones at ejones@divcom.co.uk.
Media enquiries & press pass requests to:
Emma-Louise Jones, PR Manager
t: +44 (0)1273 645134
e: ejones(at)divcom(dot)co(dot)uk
http://www.twitter.com/DiversifiedUK
SDITS exhibitor enquiries to:
Laura Venables, Event Manager
t: +44 (0)1273 645138
e: lvenables(at)divcom(dot)co(dot)uk
http://www.twitter.com/SDITS
Notes:

Diversified Business Communications UK Ltd (Diversified UK) is a fast growing trade event organiser and publisher based in Brighton. In addition to the Service Desk & IT Support Show, Diversified UK's portfolio includes Natural & Organic Products Europe, Natural Products Scandinavia, lunch!, camexpo, office*, office INTERIORS, Natural Products magazine and the Natural Beauty Yearbook. http://www.divcom.co.uk
Diversified UK is part of Diversified Business Communications, a leading international media company with a successful portfolio of sector leading exhibition, conferences, publications and websites.