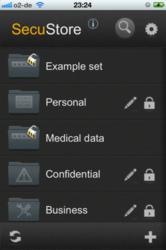 As our lives become more influenced by technology and software the need for a secure way to store and manage sensitive information becomes ever more important
Cupertino, CA (PRWEB) April 18, 2012
According to a recent report from Microsoft Research the average internet user has 25 online accounts that require passwords and type an average of 8 passwords per day. In addition to WiFi network logins, software license keys and credit card details this highlights the increasingly large amount of data that users need to recall quickly yet store securely. SecuStore solves this challenge by offering users a secure cross-platform application to store, manage and sync sensitive information for easy retrieval at any time.
Users can create individual data records using in-built templates designed to store datatypes including: websites, passwords / PINs, e-mails, credit card details, wireless network data, operating system information and license keys. Additionally, custom templates can be created to store data using user created fields. Records can be grouped within sets and any set can be locked with a unique password to ensure data remains secure even in the event of a device
breach. A search facility allows the required data to be found quickly, and any information can be copied to the clipboard for easy entering into external applications.
Secure backups of either the full database or individual sets can be made to a separate Dropbox account and subsequently restored to any platform, allowing for easy synching across multiple device types. Additional CSV file import also allows quick population of data from external storage systems, allowing users to migrate data quickly and accurately.
"As our lives become more influenced by technology and software the need for a secure way to store and manage sensitive information becomes ever more important," commented Martin Kleinschrodt of MaKleSoft, creators of SecuStore. "SecuStore allows users to store, sync, manage and retrieve any type of sensitive information, including passwords, credit card details, license keys, and network details. All within a secure and passcode protected environment."
SecuStore - More Than A Password Manager, the password manager and secure storage utility, is available now in the App Store as a universal app for iPhone and iPad at: http://itunes.apple.com/app/secustore-more-than-password/id506489668.
For more information or media inquiries, contact Mark Johnson of appshout! on behalf of MaKleSoft at +1 408 757 0156 or press(at)myappshout(dot)com.