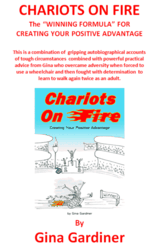 Both inspiring and practical in equal measure
(PRWEB UK) 20 April 2012
'Chariots on Fire' is the third book by Gina, a former head teacher turned coach, mentor and international speaker. However it is the first in which she talks about her own incredible life experiences and how they have shaped her. Gina explains how she has overcome great challenges, such as being left wheelchair bound by a ski accident, to become what she might call 'a winner in the game of life'. Speaking intimately from her own experiences, Gina reveals, "It's about taking one step at a time and before you realise it you will have travelled a significant distance and choosing to see things differently has the capacity to change your life enormously."
'Chariots on Fire', which has been published by The Endless Bookcase and is available to download on Amazon, has been described as 'both inspiring and practical in equal measure', an 'amazing account of life' which 'shows that anything is possible', and a book that will 'empower you to live life as you should'. Whatever Gina has written in its pages, there can be little doubt as to the positive effect her latest book has already had on people's lives, not least her own.
Gina's first two books, 'How YOU Can Manage Your Staff More Effectively' and 'Kick Start Your Career' are currently available as hard copies from Amazon and her website http://www.ginagardinerassociates.co.uk but will also be available to download via The Endless Bookcase and Amazon Kindle very soon.
'Chariots On Fire' is now available to download via The Endless Bookcase http://www.theendlessbookcase.com priced just £4.92 or via Amazon Kindle.