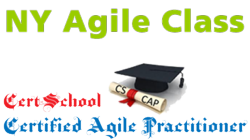 Gartner report says, Agile development methods will be utilized in 80% of all software development projects, and Skills Gap is the biggest challenge in leveraging new opportunities. CertSchool is announcing three brand new AGILE courses to fill this gap
New York, NY (PRWEB) April 19, 2012
CertSchool have prepared a new Agile certification training course for software and IT professionals at all levels who are concerned with helping teams to organize project activities around improving team productivity, decreasing product defects and increasing delivery of business value to stakeholders. This Agile Certification Training covers most Agile techniques in practice like Scrum, XP, Lean the Agile project delivery framework, and DSDM (Dynamic Systems Development Method).
The New York class is centered on training for the "CertSchool Certified Agile Practitioner (CSCAP)" Certificate. The CertSchool classroom-based Agile training takes place in New York on May 5th, 2012 is offered at an $800 enrollment fee per person. The next online 2-weekend Agile Certification webinar training begins on April 28th, 2012 and is offered at a $500 enrollment fee per person. The Scrum master 2-weekend webinar training starts on May 26th, 2012 and is offered at a $500 enrollment fee per person. All three courses are Project Management Institute (PMI) recognized training certifications.
The use of Agile as an approach to manage projects has increased dramatically over the last several years. Agile qualified individuals are able to adapt and respond to changing requirements more effectively, and to enable more accurate visibility throughout the lifetime of a project. The CSCAP certification recognizes knowledge of Agile principles, practices, tools and techniques across Agile methodologies like Scrum, XP, DSDM and Lean.
The CSCAP course carries a high level of credibility due to the course format. A combination of Agile training, experience working on Agile projects, and examination on Agile principles, practices, tools and techniques are required to satisfy the rigorous PMI standards of training that leads to qualified individuals able to offer organizations a diversity of reliable techniques in project management.
The CertSchool Agile Scrum Master (CSM) webinar course focuses on all that IT professionals need to know to fill the role of Scrum Master or Scrum team member. The basics of the Scrum framework, including team roles, activities and artifacts are explained in detail, with plenty of online resources available for a comprehensive understanding of what it means to be an effective member of a Scrum team. CertSchool trainers use presentations, situational analysis and group exercises to introduce these concepts and a highlight of the program is the Classroom Sprint with participants working in groups as Scrum teams to execute a project, giving a hands-on feel of how Scrum works.
These CertSchool Agile certificates recognize and validate the knowledge of individuals who demonstrate professionalism in practicing Agile project management and versatility in applying Agile project management tools and techniques. PMI research has revealed that 68% of organizations using Agile techniques and principles like Scrum, XP, Lean and Agile teams would find value in Agile certifications like the CSCAP and CSM. Agile certification is also encouraged by 63% of hiring managers. CertSchool's trainers will focus on developing in participants of this course, the ability to reduce costs for organizations by applying a diversity of Agile methods in solving problems in managed projects.
CertSchool's CEO, Aditya Chinni, SCPM, PMP along with CertSchool Agile Practice Lead, Anurag Saksena, ACP was delighted to announce, "This new high level Agile certification training is offered at a time when organizations everywhere are looking at ways to improve their agility in today's high-velocity business world. As with all of the PMI recognized training courses offered by CertSchool, the course materials are detailed and well refined. Our training methods offer every participant valuable hands-on learning experiences as well as a strong focus on principles and techniques they can use every day to improve their project management." Aditya Chinni, also mentioned that "Our New York Agile Certification training will be the cornerstone of all agile courses". Anurag wants to commemorate the occasion of New York class announcement with a white paper on Agile Practices.
This paper is intended to serve as research artifact to anyone who is curious about PMI's ACP (Agile Certified Practitioner) certification and Agile Methodologies in general. The white paper first talks about Agile Practices in general from its evolution to its variations and what one should expect from these methodologies. Then it will discuss how PMI's new ACP certification is a huge step for any Engineer, Manager or Analyst. Don't miss the FREE Agile white paper, which is a great research content from Anurag, Agile Practice Lead at CertSchool. You can click the following link to "Download Agile White Paper".
About CertSchool.com
Global training leader CertSchool.com offers corporate on-site, in-class, and online (100% in-class equivalent) and professional training in: Project Management, (PMP, CAPM) Program Management (PgMP), portfolio management, PMO setup, various management methodologies including Sigma, Agile XP, Agile Scrum, Prince2, RUP, as well as MS Project Professional/Server, and PPM Solutions (MS, HP). CertSchool also offers customized training to some of the world's biggest companies, including: Bank of America, Caterpillar, Dell, Farmers Insurance, Keiser Permanente, Southern California Edison, and many more.
Headquartered in Chino, California, CertSchool.com offers training in 14 locations across the globe, including: Bangalore, Boston, Charlotte, Chicago, Costa Rica, El Segundo, Houston, Irvine, Las Vegas, Los Angeles, New Jersey, Pasadena, Phoenix, Portland, San Jose, and Seattle.
To find out more and to book for up coming training events, please contact them on their website or on toll-free telephone 1.888.369.1221.