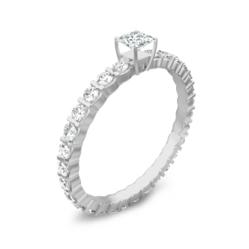 Women looking for something unique and alternative would love Oval Engagement Rings with oval cut diamonds
Cockeysville, MD (PRWEB) April 20, 2012
The oval cut diamond is known as beautiful, radiant and timeless diamond. It was developed only fifty or so years ago by the famed jeweler Lazare Kaplan in the mid 1960's. Since its inception, the oval cut diamond is certainly pulling its weight in the commercial jewelry market as a substitute for a more traditional round cut diamond engagement ring. This cut of diamond made Lazare Kaplan famous and he was inducted into the Jewelers Hall of Fame for his brilliant work. Now his work is available to all jewelocean.com customers, fulfilling their pledge to provide always expanding variety at the same low prices they have always stood for. JewelOcean is now introducing the brand new Oval Engagement Rings made with beautiful oval cut diamonds.
Considered to be a fancy cut diamond, the oval cut diamond gives all the brilliance and splendor of a round cut diamond, but with a unique and unconventional shape. The diamond's elongated shape gives the illusion of slender fingers and is sure to be loved by all recipients in addition for a seemingly larger carat diamond than its actual weight. This is the main draw that JewelOcean believes would attract the customers to oval diamond rings in it's collection. "Oval diamonds are very popular alternative to main commercial cut diamonds. Women looking for something unique would definitely love the Oval cut Engagement Rings that are in JewelOcean collection", says Bruno Mathew, manager at JewelOcean.com
Jewelocean.com is always expanding their collection of diamond engagement rings, and the oval diamond engagement rings is a welcome addition to their wonderful collections. Available in many of their existing designs as well as brand new ones designed specifically for the oval diamond, these rings are almost all available in our different colors or gold; rose, yellow, and white gold. All jewelocean.com's rings are stunning, and with their great selection it should be easy for their customers to find a ring setting and diamond combination that would make Lazare Kaplan proud.
JewelOcean.com is a leading online jewelry retailer, specializing in retailing diamond engagement rings at affordable and cheap prices. All purchases on the website come with guarantee certificate, with refund policy and lifetime warranty options. Customers interested in looking at oval cut diamond engagement rings should visit JewelOcean.com.