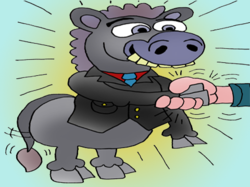 Your brain isn't good at memorizing text - it's good at memorizing stories and images. If you study stories and images rather than text, you're bound to get higher SAT scores.
New York, New York (PRWEB) April 18, 2012
For most students studying SAT vocabulary words, flashcards are a way of life. Despite the technological advances that the internet has brought, when it comes to studying SAT vocab, very few changes have been made to the status quo. Rather than providing new ways for students to study vocabulary words, the internet has simply put the old method of studying online. There are now flashcard apps, flashcard websites, and even flashcard Facebook pages that allow students to share their flashcards with their friends. However, as one New York SAT tutor observed the technology developing around SAT vocabulary, he had a serious question to ask: why are students still using flashcards at all?
"The human brain is terrible at memorizing text," says Anthony-James Green, widely considered to be one of the best SAT tutors in Manhattan and president of Test Prep Authority, a free resource for ACT and SAT questions. "At best, your brain memorizes perhaps 20% of what it reads. That's fine when it comes to books or newspaper articles, since all someone needs to memorize in those situations is the main idea and a few peripheral details. But it's completely unacceptable when it comes to memorizing SAT vocabulary."
Improving one's vocabulary can lead to hundreds of extra points on the SAT, but in order to show tangible improvements, students have to learn hundreds of commonly used words and their definitions. Often, they have to do so in a very short period of time. "The SAT picks its vocabulary words from a pool of thousands," says Green of the most common SAT vocab words. "There's almost no chance that a student will be able to study every possible word that'll show up on this test. However, there are some very common SAT and GRE words that show up more often than others. If students can simply memorize these, they'll do wonders for their overall Critical Reading scores."
Green has been struggling with the issue of vocabulary retention for years. "It's not that my students weren't motivated to learn new words; it's that the methods they were using were utterly ineffective. My students all had what I like to call "I've seen this before syndrome" - they had seen and studied words before, but when it came time to put them to use, they had no idea what they actually meant - there were no associations for them to latch onto." According to Green, the problem had to do with a total lack of what he calls "association maps." The words that students were studying were being studied in a vacuum, and since students weren't connecting their new knowledge with their current knowledge, nothing was sticking.
"The brain isn't just an empty box that students can drop knowledge into," says Green of the memory process. "The brain is a network - in order for someone to memorize something, he needs to integrate this new knowledge into his current framework of understanding. That's why mnemonic devices are so effective - they fit new facts in between the cracks of what people already know and understand."
To battle his students' lack of retention, Green went about creating a new software targeted specifically toward students learning SAT and GRE words. Instead of using text to teach students new words and definitions, Vivid Vocab relies almost entirely on stories and imagery. "We create bizarre, image-rich mnemonics in the minds of our users. Rather than trying to retrieve a random, text-based definition, students can retrieve an entire experience - a story, an image, audio, and more, which leads to more permanent, more vivid memories."
An example of Vivid Vocab's methodology is the software's "page" for the word "aspire." On this page, students are shown an image of a well-dressed donkey beaming with pride and shaking a man's hand. The ass, students are told, was hired because he aspired to go higher in his job. Students associate the ass being hired with the word "aspired," seeing the full image of the donkey shaking hands with pure ambition. Students can also listen to audio of the story being told by a professional voice-over artist, look at synonyms of the words, view "diction discussion," and see the word used in multiple different contexts.
"Trying to remember "to strive for a higher ideal" is tough," says Green of the software's methodology. "Remembering an ass getting hired in a business suit is not. When students start relying more on mnemonics and less on text and flashcards, their scores are going to skyrocket."
Thus far, the results of the software have been remarkable. According to Green, his students are spending about 1/4th as much time as usual learning the 500 most common SAT vocab words. More importantly, because students are interacting with a multi-sensory software rather than with plain text, they're more motivated to study, and hence study far more often.
Students and parents interested in the Vivid Vocab mnemonic software can try a one week trial by visiting:
Vivid Vocab is a product of Anthony-James Green and Test Prep Authority, a New York City company focusing on free SAT practice and ACT problems.
###