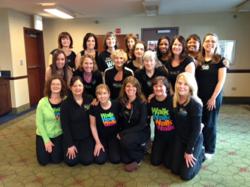 Our growing movement now has 300 Certified Walk Leaders across the US, Canada, UK & the Philippines!
Chicago, Illinois (PRWEB) April 26, 2012
Certified Walk Leaders from the number one name in fitness walking, Leslie Sansone and her Walk At Home Team, gathered in Chicago, Illinois on Saturday, April 21, 2012 to celebrate their growing movement and to build on the tremendous momentum that "Walk At Home" is gaining across North America, UK & abroad. This first, annual event provided Leslie Sansone's Walk Leaders with valuable insight into the massive world of Fitness Walking, together with the latest discoveries and business development strategies.
"We have so much to celebrate", said Walk At Home founder, Leslie Sansone. "Our growing movement now has 300 Certified Walk Leaders around the US, Canada, UK & Philippines and we are impacting public health in a big way. No other healthy lifestyle choice has more research- backed evidence to show that WALKING IS MEDICINE and will help people of all walks of life achieve their highest level of well-being!"
The celebration covered where Walk At Home has come from and where it is going! With an emphasis on the latest fitness tools and strategies, Leslie Sansone demonstrated that she is more committed than ever to ensure that her Walk Leaders stay up-to-date with the very latest fundamentals of fitness, together with the best methods of executing the Walk At Home unique fitness walking classes. All Walk Leaders are thoroughly trained and then tested and certified by the renowned Ruth Hughes, PhD and Walk Leader Certification Director.
"We know the future of our movement is brighter than ever as fitness walking is the most chosen of all health improving methods."
For more exciting information on Leslie Sansone's accessible and highly effective Walk At Home Fitness Walking programs visit http://www.walkleader.com