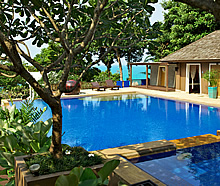 "Adding a Lionrock Recovery program as Aftercare provides clients with the privacy they need to build on the work they've done at DARA," said DARA Treatment Program Director, Martin Peters, BA (Hons), Dip HE, RN.
Koh Chang, Thailand and Mountain View, CA, USA (PRWEB) April 19, 2012
DARA, Asia's first rehab resort, and Lionrock Recovery, a provider of addiction treatment online by secure video conference, announce their partnership to bring increased privacy to the Aftercare options available to DARA clients. When appropriate for a client's individualized treatment plan, DARA and Lionrock will collaborate closely to provide treatment that begins at DARA's Koh Chang, Thailand rehabilitation center and continues almost seamlessly via Lionrock's highly secure video conference-based treatment program when clients return home anywhere in the world.
"Clients travel to DARA for the privacy, serenity, and individualized treatment plans necessary to build a sustainable recovery. This is the value of coming to our beautiful resort rehabilitation center on Thailand's Koh Chang island" said DARA Treatment Program Director, Martin Peters, BA (Hons), Dip HE, RN. "Adding a Lionrock program as Aftercare provides clients with the privacy they need to build on the work they've done at DARA."
"Through Lionrock Recovery's Aftercare Anywhere(tm) program, clients returning home from the safety of DARA's tropical island paradise can continue to get the high quality - and very private - addiction treatment they need," said Peter Loeb, president of Lionrock Recovery. "Early recovery is a fragile time for clients returning to their jobs and families. Lionrock's experienced addiction counselors ease this transition, providing "best practices" treatment by secure video conference technology. No one else needs to know that a client is continuing treatment with Lionrock, and continued treatment helps build sustainable recovery."
Lionrock Recovery offers an Intensive Outpatient Program (http://www.lionrockrecovery.com/online-intensive-outpatient/) that conforms to the best practices for this level of care. To ensure privacy, Lionrock video conferences are securely encrypted using the global standard for security (128 bit AES), and all communications are handled by a HIPAA-compliant information system. Lionrock's certified addiction counselors lead group therapy sessions which include addiction education, support for family members, and family counseling to help family members come back together in recovery.
"Lionrock's Online IOP provides therapy, education, and support at a level that's comparable, and even exceeds, the quality of work done in many outpatient, and even some residential, addiction programs", said Roland Williams, Chairman of the Lionrock Recovery Advisory Board, and Acting Clinical Director.
About DARA:
Asia's first and leading rehab resort, DARA (Drug & Alcohol Rehab Asia, http://www.alcoholrehab.com) is a world-class rehabilitation center located on the tropical island paradise of Koh Chang, Thailand. Helping thousands of clients from over 50 countries start a new life, DARA's organizational goal is to provide affordably priced professional and effective drug and alcohol treatment.
For more information, please contact Mr. Warasurase (Top) Rupasut, DARA – Marketing Manager, via mobile phone at +66 (0)8 1347 4667 or via email at top@alcoholrehab.com.
About Lionrock Recovery:
Lionrock Recovery (http://www.lionrockrecovery.com) makes getting help for alcohol and drug problems easier by combining serious addiction treatment with the convenience and privacy of online therapy. Offering an Online Intensive Outpatient Program (Online IOP) for those seeking recovery treatment and Aftercare, and Lionrock's Family Matters Program for their loved ones, Lionrock Recovery offers individualized treatment plans for its clients to meet their specific recovery needs. Lionrock offers "best practices" treatment which conforms to the U.S. Substance Abuse & Mental Health Services Administration (SAMHSA) standards, and is provided by nationally-certified addiction counselors. Lionrock Recovery uses state of the art online video conference technology, encrypted for security and streamed in high definition video, to provide an experience that is safe, secure, and easy to use, and in harmony with the high standards of Lionrock's clinical practices.
Media Contact:
Peter Loeb
760-994-4990
http://www.lionrockrecovery.com